OnePlus 3 put up on a "blind sale", but here's how it looks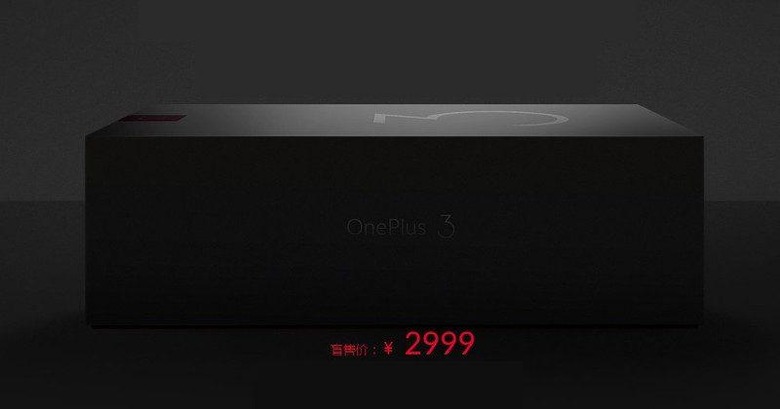 As far as marketing gimmicks go, OnePlus is definitely up there. Although probably not intentional, the very limited, invite-only system did drum up the marketing for the OnePlus One. And then there was that "Smash the Past" for the same flagship that would give you the chance, not an immediate replacement, to get a OnePlus One if you went on air to smash your existing flagship. Now OnePlus is again asking fans to take a leap of faith by putting in a pre-order for the OnePlus 3, without knowning the details or even the final price. Luckily, others are more than willing to fill in the blanks.
This "blind sale" is pretty much the retail version of a blind date. You'll be going in not knowing the deal you're going to get. OnePlus is putting up only 1,000 of its OnePlus 3 smartphones in this promotion and it's puttin it up for 2,999 RMB, roughly $256. OnePlus notes that it isn't the final price of the device and blind buyers will be refunded the difference once the product becomes official. That said, it could very well be close to the final price, depending on which model is offered.
All OnePlus has to show for this blind sale is a nondescript plain, even ominous, black box. However, thanks to a series of leaks, we have an idea of what the OnePlus 3 might look like. In fact, the most recent batch pretty much confirms all those. Here, the smartphone comes in a grey/black color and looks like a flatter HTC One M9. Not that it's exactly a bad thing. No word yet on other color variations or customization options.
As far as specs go, we also have that mostly pinned down. A sighting in Oppomart, not to be confused with the Chinese OEM, also confirms most of what we've heard so far. That includes a 5.5-inch screen, sadly still 1080p, a Snapdragon 820, 4 or 6 GB of RAM, and a 16 megapixel rear camera paired with an 8 megapixel selfie maker. What's new hear is a 128 GB model we haven't heard of previously, which brings the total possible configurations to six. Oppomart starts the price at $369 though our earlier leak starts lower at $349. Then again, neither can really be given 100% credence yet.
As for the blind sale, that starts in less than an hour. Given how many faithful fans OnePlus has, that 1,000 units could be sold out in minutes. Regardless if you buy now or later, shipping starts June 15 (June 14 in the US).
SOURCE: OnePlus
VIA: @The Malignant