OneCompute Moto Mod gives Moto Z a taste of Continuum and more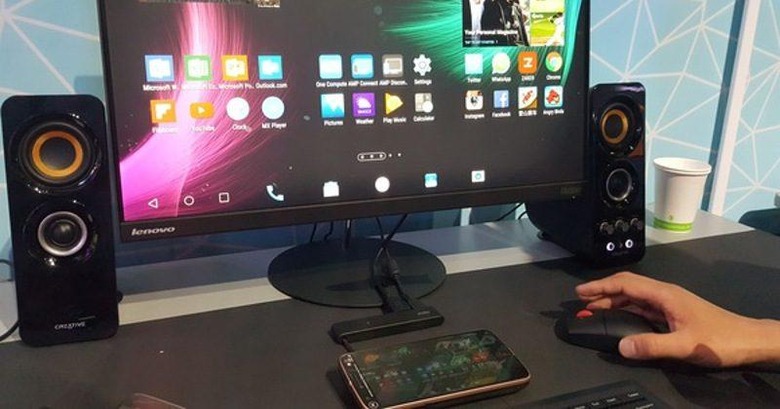 A projector or very load speakers for your next Lenovo/Moto smartphone might not be the most exciting add-ons, but Moto Mods are definitely more capable than that. That potential is perhaps best demonstrated in the Moto Mod that Motorola still isn't releasing. Called the OneCompute, this mod, which is practically composed of a few different pieces, turns the Moto Z into a desktop computer, almost similar to what Microsoft promises with Continuum. Except Android so more useful and with a bit more potential than Microsoft's current limited implementation.
Although Motorola insists on not comparing it with Continuum, there are very striking similarities. The core idea is the same, turning the smartphone into a PC by connecting it to peripherals like a larger display, keyboard, and mice. But as they say, the devil is in the details, and in the case of OneCompute, there are a lot of details.
Microsoft's implementation is simple and also very basic. You connect a compatible Windows 10 Mobile phone to a dock which connects to said peripherals and you're done. Motorola does things in a roundabout way in comparison. The Moto Z directly connects to a Moto Mod back cover via the pogo pins, then the combination is placed on a pad while the pad itself connects to the monitor and input devices. The key difference here is that the phone and the pad actually communicate wireless with each other while it is only the pad that connects to external device via wires. Motorola insists that this is actually advantageous, contrary to what one presumes with wireless connections. It is actually faster compared to the conventional physical MHL connection. Plus, it allows the pad to wireless charge the Moto Z at the same time.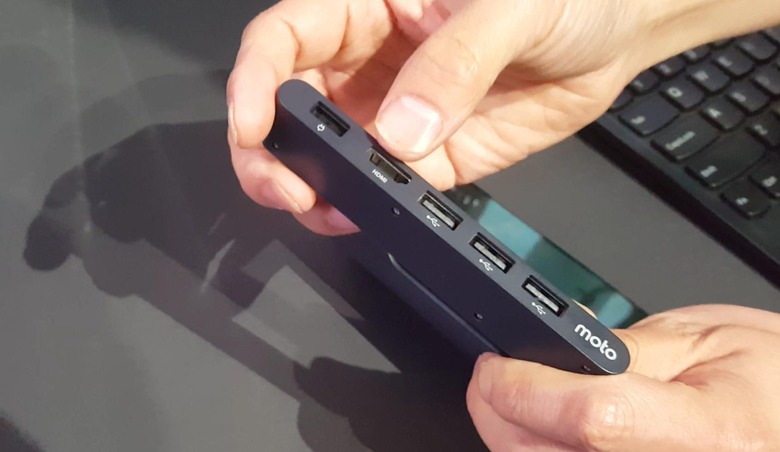 Software-wise, Continuum and OneCompute couldn't be more different. While both do try to offer a desktop-like interface to some extent, Continuum limits users to apps written in the Universal Windows Platform and made explicitly available for such use. OneCompute, however, has all Anroid apps and features exposed to users while still allowing such windows to be resized, moved, split, etc. The interface isn't as refined as, say, Jide's Remix OS, but it also seems to have very few modifications, which means, in theory, updates can be rolled out faster.
Motorola is quite coy about whether OneCompute will actually be a commercially available Moto Mod, claiming that it is a developer demo. From the looks of things, however, it is almost polished and ready for a retail launch. But more than just this desktop use case, the OneCompute demo video also seems to hint that the same technology could be used for other purposes, like connecting a Moto Z to a card dash, for example.
SOURCE: PCWorld