One Mix 3 Review - Smaller alternative to Surface Go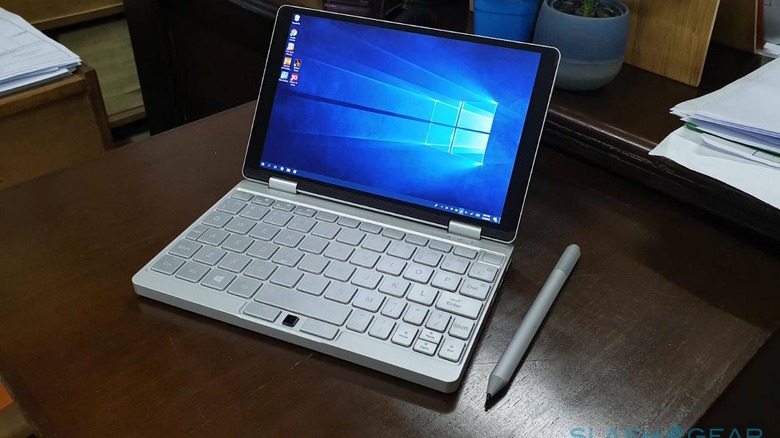 EDITORS' RATING: 8/10
Our smartphones have become so powerful these days that it's almost possible to do everything with them. That includes not only entertainment and web browsing but also "light work", like emailing or frantically hammering out some text in Google Docs or Microsoft Word mobile.
While it may be possible to do almost everything on a mobile device, some still prefer the traditional form of a laptop or the benefits of a larger screen. At the same time, some of those would concede wanting a smaller device they can carry with them anywhere. That fusion of portability and versatility is what the new breed of Ultra Mobile PCs is promising and the One Mix 3 is one of the first to arrive at the scene. We take it for a thorough run to find out if it delivers on that promise.
A tiny history of tiny laptops
The One Mix 3 isn't the first small notebook to come to market. It's not even One Netbook's first such product as the number tells. One can probably trace the obsession for compact laptops back to the netbooks and their 10-inch, tablet-sized screens. More recently, however, the latest trend was kicked off by GPD when it successfully crowdfunded and, more importantly, delivered the GPD Pocket back in 2017. Today, there are at least three companies competing for attention and sales.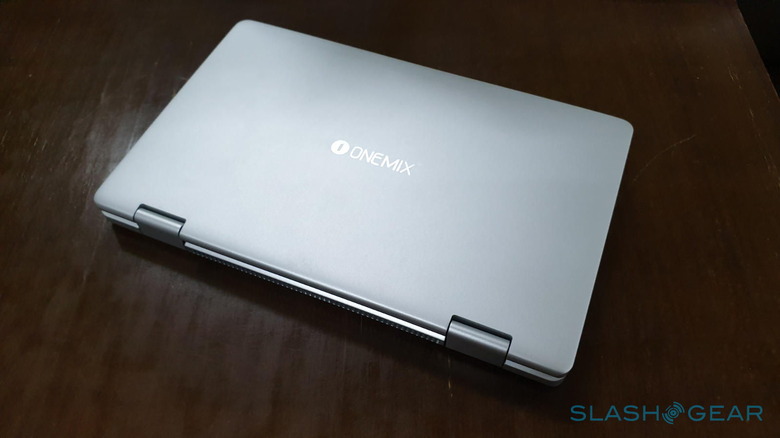 One Netbook is the rather unknown newcomer, at least compared to the likes of GPD and Chuwi. Its first product, the One Mix, gained quite a following. Now the three Chinese companies are vying for the title of the best 8-inch or larger UMPC in the market but the On Mix 3 got a few months head start from the competition.
Design
In terms of appearances, the One Mix 3 doesn't stray far from its predecessors, all of which are all-metal rectangular slabs that look like the old MacBook Pros, only thicker and smaller. There is an industrial look and feel to the mini laptop, especially with its sharp corners and light gray sheen. It's almost as if the One Mix 3 is saying out loud that it means serious business and not the frivolity usually associated with tiny gadgets.
Of course, unlike the One Mix and the previous GPD Pocket mini laptops, the One Mix 3 boasts of a larger screen. At 8.4 inches, it sits in between the 8.0-inch Chuwi MiniBook and the 8.9-inch GPD P2 Max. That larger screen also allows the One Mix 3 to have a larger space for its keyboard, which it uses in a rather smart way as we'll see later.
The screen has rather thick bezels at the sides but the top one is very narrow. There is obviously no room there for a webcam but that design also means you're likely to touch the screen and trigger events when trying to hold it on that side.
It's not just a laptop, though. Just like its predecessors, it can fold all the way back into a tablet form or stop at any angle in between. This allows for a "tent" mode as well as a "presentation" mode, though the latter can be a bit problematic because the keyboard doesn't deactivate until the back of the screen sits completely flush on the back of the keyboard, a.k.a. in "tablet" mode. That last form offers the biggest versatility in terms of use, either with fingers or a stylus. But at 650 grams, don't mistake this for an iPad Mini of the same size. Your arm will eventually get tired holding this thing up for long periods.
Specs and Performance
You might expect that a device as small as this would have low-end mediocre components inside. Indeed, the GPD Pocket initially launched with Intel Atoms and eMMC storage. But the times have changed and, for the right price, one can cram into an 8.4-inch laptop almost the same specs you'd find in mid-range 11 to 14 inch notebooks. Here's a quick rundown of those juicy figures:
• Operating System: Windows 10 Home
• CPU: Intel Core m3-8100Y, UHD Graphics 615
• RAM: 8 or 16 (3S) GB
• Storage: 256 or 512 (3S) GB PCIe NVMe SSD, one M.2 slot, one microSD card slot
• Display: 8.4-inch 2560x1600 IPS LCD
• Network: 802.11a/ac/b/g/n, dual-band Wi-Fi
• Connectivity: Bluetooth 4.0, USB-A, USB-C, micro HDMI, headphone jack
• Battery: 8,600 mAh
In terms of ports, it has one of almost everything. There's only one USB-C port for both power and data, one full-sized USB 3.0 port, one microSD card slot, and one micro HDMI port. That pretty much provides the basics while retaining the minimalist appearance of the mini laptop.
The Core m3-8100Y, while no powerhouse, is a massive step up from the Atoms, Celerons, and Pentiums that Intel offers for entry-level laptops. Its closest comparison and rival is the Intel Pentium 4415Y on the Microsoft Surface Pro. As you would expect, it scores low on the benchmarks compared to bigger and more expensive notebooks but, thanks to the combination of 8 GB of RAM and SSD storage, can hold its own in more than just basic computing tasks.
It can handle multiple browser tabs and multiple apps with aplomb and you'll be more concerned about running out of memory or thermal throttling rather than raw performance from the CPU. Here are some of those benchmarks for those who prefer to see hard numbers.
The One Mix 3 isn't fanless but it seems that its fan doesn't go off as often as it needs to. On the one hand, it does save up on power and reduces noise. ON the other hand, that means it throttles more and sooner than when the fan is on. It also means it can get hot quite a lot. Actually, the fan is always on but One Netbook just has settings for "quiet" and "loud". There is a switch for the fan but it only keeps it from going louder at the expense of throttling.
Battery
The One Mix 3 has a massive 8,600 mAh battery that, on any tablet or phone, would mean lasting for more than a day at least. On an Intel computer with Windows 10, that would be a miracle. One Netbooks says that the One Mix 3 should last about 12 hours but also follows it with "should depend on the actual working condition."
On a regular work day involving multiple Chrome tabs, a text editor, a chat program, and light image editing, I would be lucky to pull 6 hours from the One Mix 3. And that's with almost 0% brightness (see below) and with the "Better battery" profile. More casual use with some periods of sleep here and there could reach that 12-hour mark. But throw in Netflix and gaming, both of which are perfectly doable on the device, and don't expect it to last even 3 hours.
The mini laptop charges via USB-C and One Netbook throws in a 30-watt PD charger in the box, along with a USB-C to USB-C cable. The One Mix 3 naturally charges slower while using it, bout four hours to go from 20% to full, but things pick up when you let it idle. 6 hours of continuous use does sound rather disappointing for a laptop of this power and price though you can always top off using a compatible power bank, unlike a regular laptop. Still, battery life could be a deal breaker for some users who prefer to work for hours uninterrupted, relegating the One Mix 3 to a secondary "out of office" role.
Multimedia and Gaming
Although it is billed primarily as a productivity device, any laptop worth its salt can also function as an entertainment machine as well. The extremely bright, pixel-dense screen help make that not only possible but a positive experience as well. In fact, you could probably say that its screen is too bright and you can even get away with 0% brightness depending on the ambient light or location. On the flip side, that also means that the difference between darkest and brightest isn't that much and that the screen can't go dim as much as you may want to.
Audio is another area where the One Mix 3 seems to be maxed out to the point of being too much. This time, though, the range between softest and loudest is wide. The bottom-firing mono speaker can get very, very loud but at max volume you can definitely hear the distortion. Fortunately, it does have a headphone jack for your favorite buds or cups.
The One Mix 3 is neither here nor there when it comes to gaming. It's definitely powerful enough to run some games but also pales in comparison to Core i5 computers, especially with its integrated Intel graphics. You will be able to play some normally graphics-intensive games on low settings but be warned about the heat generated by all that pixel pushing. A fun aside, with the right accessories (like an iPega PG-9023, you can even turn the One Mix 3 into a portable PC gaming console!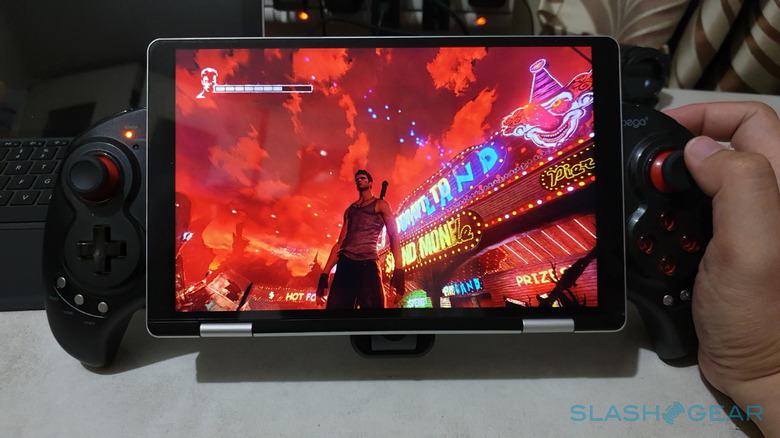 Keyboard and Stylus
A laptop lives and dies by its keyboard. One that won't let users effectively and comfortably type on it might as well be a tablet, if it has a touch screen, or a makeshift desktop with an external keyboard. With a body this small, there is definitely cause for concern about the typing experience. Fortunately, the One Mix 3 is a bit unique in that regard.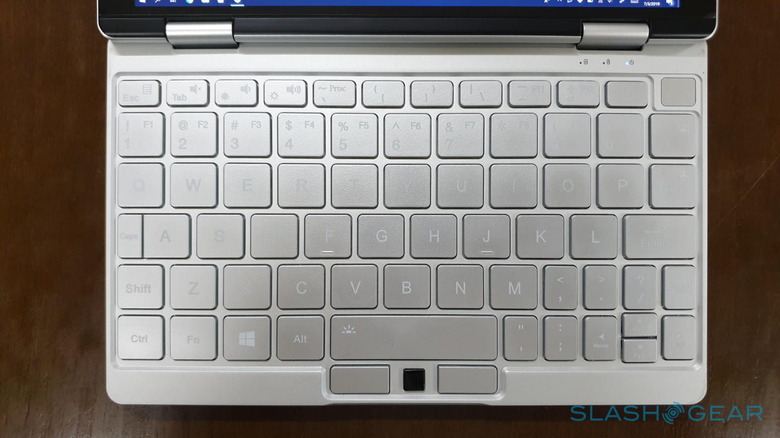 It has regular-sized island-style keys that are spaced apart adequately and has a comfortable travel, something rare in small keyboards like this. It even 6 rows of keys, though it's unsurprisingly missing the row of function keys. It also has backlighting for the entire keyboard, which can also be too bright for comfort. Unfortunately, the choice of white characters on silver keys doesn't do well for readability in certain lighting conditions.
Overall, the keyboard is quite comfortable to type on, especially compared to the 7-inch GPD Pocket, even after hours of hammering out this review.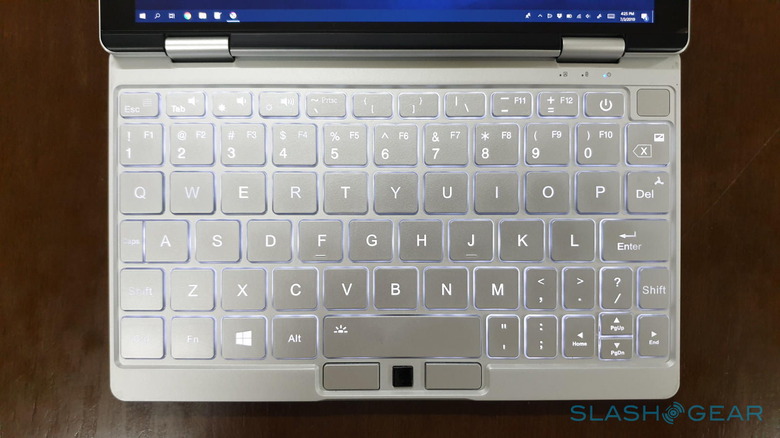 That said, space constraints force the One Mix 3 to adopt a non-standard keyboard layout. My biggest peeve has been the Tab key at the top, which I eventually swapped with the rarely used Caps Lock. Even after weeks of daily use, I still find myself looking for certain symbols instead of relying on muscle memory. There is also no trackpad and not even a nub. All it has is an optical sensor whose sensitivity can be a bit unreliable at times.
The one thing that sets the One Mix 3 apart from its rivals, the GPD P2 Max and Chuwi MiniBook, is its support for an active stylus. Not just any stylus, mind, but N-Trig ones just like the Microsoft Surface Pen. It also performs just as well, which means palm rejection is a hit or miss depending on the app.
The device also comes with a screen protector applied which can affect the quality of strokes so digital artists should bear that in mind. The size and portability of the One Mix 3 make it a handy digital sketchbook and notebook that can run Photoshop and OneNote with no problems, aside from RAM that is.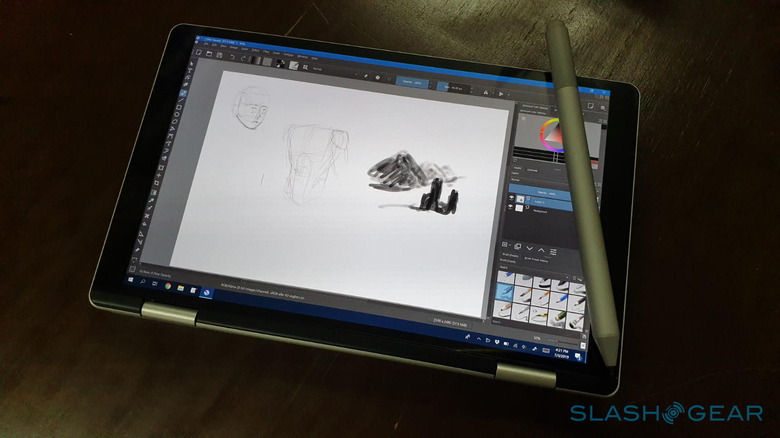 Wrap-up
Now that the initial pre-sale period is over, the One Mix 3 retails for $759.99 for 256 GB of storage and no stylus. That pen costs an extra $39.99 separately but the bundle goes for only $779.99. There is even a Core i7 version with 16 GB of RAM and 512 GB of storage for $1,299.99 without the pen. That's definitely quite a high price when you can get a more powerful laptop for that same amount. You won't, however, get the same portability and versatility it offers.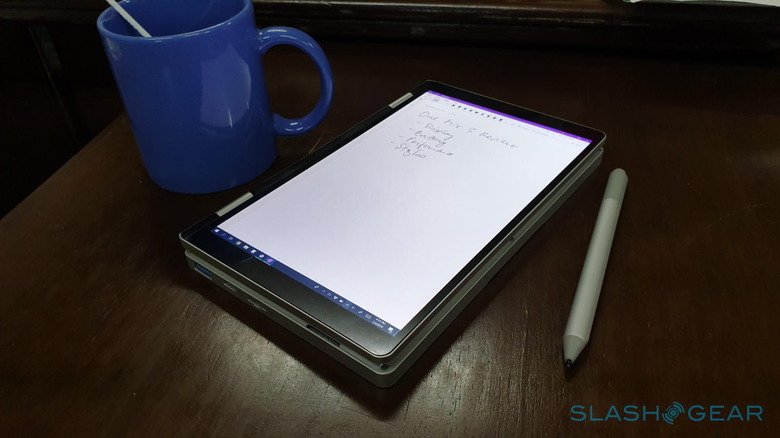 Can the One Mix 3 be your main or only computer? Depending on your eyesight and use case, it definitely can! It can do almost everything you'll need from a regular laptop, including some light gaming.
On a desk, you can attach peripherals to create a better desktop experience. Of course, if you need something more powerful for gaming or multimedia work, you probably won't be looking in this direction anyway. By no means is the One Mix 3 perfect, especially given its price. All things considered, however, you'd be hard pressed to find a multi-functional computer that is as portable and as usable as this.