On the track with Toyota's crazy Camaro-killing R-Tuned minivan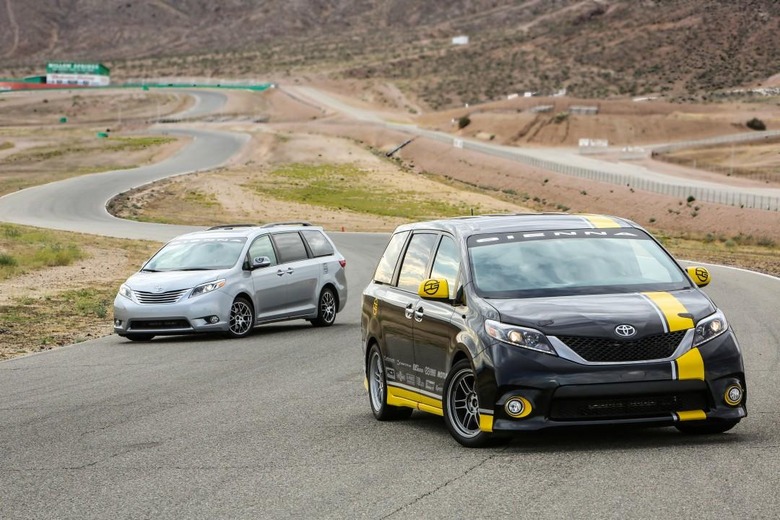 This family hauler, tuned by Toyota Technical Center in collaboration with championship-winning performance shop DG-Spec accomplished a super fast lap time of 1:27 which is on par with some of highest performance sports car available at the Streets of Willow Springs.
Sienna R-TUNED and S-TUNED Concept
These two Siennas are obviously outliers and not the everyday minivan we mere mortals use to shuttle our kids to school, daycare, soccer, or dance class. So let's address the pink elephant in the room and move on: there's simply no way to dress up minivans to make them sexy or appealing. It's a necessary people – or I should say small people – mover. They're big, heavy, and many lack any sense of a driving experience that could thrill eager moms and dads. On the flip side, if you're part of the target audience, the benefits of owning a minivan far outweigh most of the drawbacks you can think of.
I fought off the idea of purchasing a minivan for years, but with the arrival of our second child I couldn't put it off any longer. My two primary criteria seemed pretty straightforward initially, but turned out to be more of a challenge than I anticipated: it had to look halfway decent, and it needed at least somewhat decent handling and performance.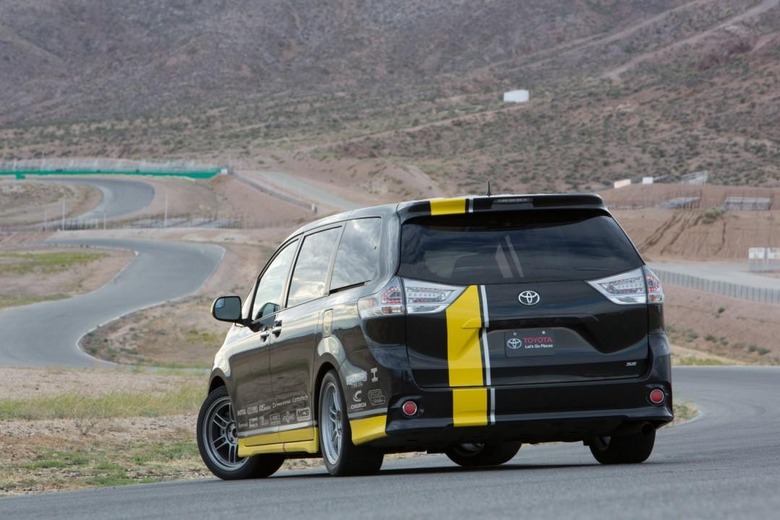 I didn't expect Camaro or FRS performance level – I'm not oblivious to the laws of physics – and my baseline expectations were accordingly low. In fact, my perception of owning a minivan was driving something that's sluggish, bordering on what you'd expect from a tank (only without the useful cannon on top).
So, we checked out the Sienna SE, Honda Odyssey, Chrysler Town and Country, and Nissan Quest. Back in 2013, Kia hadn't introduced their souped-up, tech-endowed Sedona yet, so it wasn't an option. Immediately I was drawn to the Sienna SE, thinking that the SE moniker might provide me with at least some of the performance I was seeking, or at the very least the sportier trimmings. At this point, I crossed everything off the list except for the Sienna SE and the Odyssey.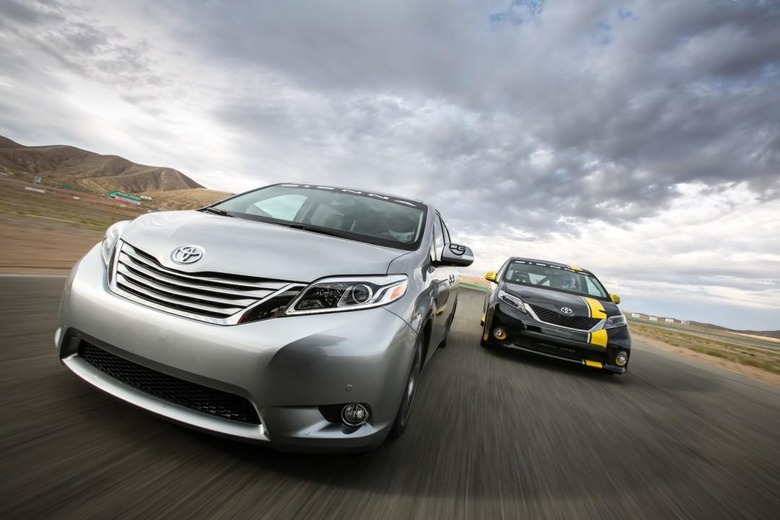 It turned out, though, that "SE" doesn't stand for "superlatively equipped." While the Sienna SE had a slightly modified suspension setup and sportier trimmings, it lacked many of the luxury amenities we wanted such as leather/heated seats, navigation, and a child-distracting DVD/Blu-Ray system with a rear-seat display. Keep in mind that this was back in 2013: a lot the standard features available today were still expensive options back then.
In fact, to add those options to the SE was taking the Toyota to a hefty $50k, no small amount for a minivan. At the end of the day, with all things being equal, a fully-loaded Odyssey V6 came in with a much better deal from Honda. I can remember cursing at the automakers, asking why there wasn't an option for parents like myself: something where we could have both a performance-tuned minivan married with a comfortable living room experience.
Without my knowledge, around the same time I was making my purchasing decision, Dan Gardner must've heard my cry to the minivan God – and promptly had a lengthy chat with Toyota, working with the company and its chief engineer on just what such a beast could look like.
The concept is brilliantly simple: a sporty minivan that doesn't just look good but drives as fiercely as the styling promises. This concept must've made sense to Toyota management, too, because a deal was immediately struck and, at the last SEMA in 2015, the Sienna R-Tuned was unveiled. Although a concept, it's also symbolic of a shift in brand perception, in line with company president and CEO Akio Toyoda's vision that Toyota move away from cars that people – that's you, me, and the rest of the world – have to drive, and move towards cars that people want to drive.
What does "Real Performance" in a Sienna actually mean? According to Dan, it comes down to three key factors.
First, the Sienna R-Tuned has to retain as much of the original Sienna as possible. That means using the same powertrain and tuning – but not outright switching – the suspension to compensate for the overall reduction in weight. It had to retain the Entune infotainment system, the air conditioning, and the useful oversized glovebox and other interior storage: what makes the Sienna family-practical.
In essence, it couldn't be a Sienna body on top of a custom framed, motor swapped, transmission transplanted, turbocharged, supercharged, Franken-minivan with purpose-built suspension. In fact, the R-Tuned is based on a Sienna SE, and its sibling the S-Tuned is based on an AWD Sienna, both fully loaded retail vehicles bought from Toyota dealerships in Long Beach and Cerritos respectively.
Second, this couldn't be a foregone conclusion. The team shouldn't know the outcome before they started, Dan explained to me: they picked a benchmark and then built the best minivan they could to try to meet it.
They didn't pick an easy target, either. The first goal was to take on a V6 Camaro, but it soon became apparent that the super-aggressive R-Tuned could have even beefier cars in its sights, potentially even the 2015 Camaro 6.2-liter V8. As a result, the team decided to raise the benchmark even higher, to coax more speed out of the minivan.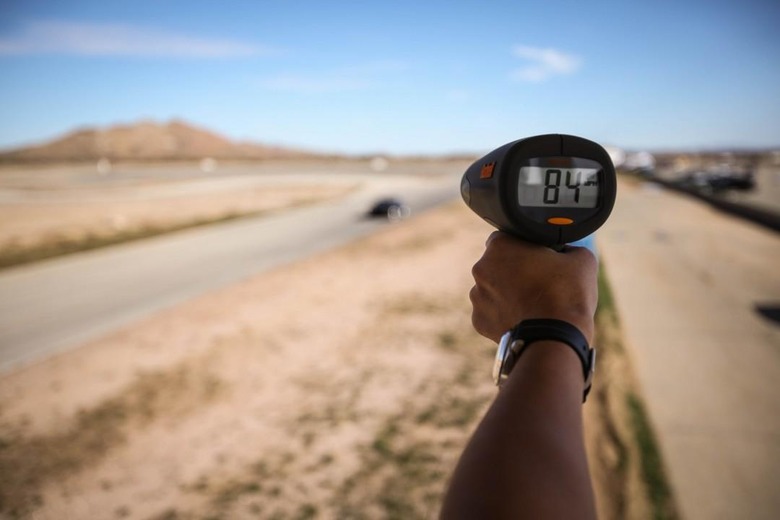 Third, and finally, the R-Tuned had to be "the real deal": its performance couldn't just be on paper, but delivered out in the real world, and measurable. That's where I and a couple of other press came in, handed a stopwatch and radar gun to track the performance of both Sienna and Camaro, and then turned out onto the track to see that the driver in each was not holding back.
That would be crazy enough; what took it to another level was that Toyota decided that the Sienna S-Tuned's unveiling should take place at an intimate media drive event at the Streets of Willow racetrack, and with us at the wheel. Toyota gave a few of us the uber-rare opportunity to push them to the the best of our ability, before riding shotgun while "pro-drivers" wiped us around the track at proper racing speed.
Instrumented up, and with us on the sidelines watching with the speed gun, the Sienna R-Tuned took on some of the leading sports cars available today, including the 2015 Camaro 6.2-liter V8. With renowned racing champion Craig Stanton at the wheel, it certainly wasn't slow – consistently hitting 1m 27 to 1m 28 lap times, in fact – but it was only when I went Camaro chasing in the minivan that the extent of the tuners' work became evident.
I was lucky enough to have Dan Gardner himself take me out for a pro drive on the track, while Stanton baited us in the Camaro V8. Now, that muscle car is no slouch, and when driven by Craig – who won the Grand-Am Koni Challenge championship in 2004 in the GS class, followed by the Grand-Am Rolex Series championship in 2005 in the GT class – it's a formidable target. Nonetheless, at no point did Dan give Craig an opportunity to speed away and, at times, I felt like the Sienna R-Tuned was rushing towards the Camaro's rear at the speed of light.
With a surgeon's precision, Dan's racing lines were precisely carved out and every turn in and out was well executed. At speeds well over 100 mph – or what sure felt like it at times – at no point cutting into tight turns did I feel that the R-Tuned wasn't up to the job. It's frankly a remarkable accomplishment Dan and Toyota were able to plan, execute, and deliver a minivan capable of taking on a 426 horsepower Camaro SS without embarrassing itself.
Then it was my turn to take the wheel. On the track I actually forgot I was driving a minivan, speeding through the twists and turns, slamming hard on the brakes moments before cornering into the apex, and then slamming just as hard on the throttle easing out of a tight turn.
It's true that the Camaro out-performs the Sienna R-Tuned when it comes to raw horsepower but, on the track, agility and maneuverability are just as vital for winning a race. Pair that with a substantial weight loss of around 800-pounds, along with custom tuned suspension and the other additional modifications, and the R-Tuned is a sharp tool in the right hands of a pro-driver.
Speaking of sharp, at the end of the day I got a hot lap driven by the big man himself – Dan Garner, the man behind the championship-winning performance shop DG-Spec. There would be no R-Tuned without Dan, and he knows this minivan inside out. On the track, the R-Tuned is razor sharp, cutting through the racing line like nobody's business.
Speeding 100+ miles per hour towards an early apex is no problem: the brakes work great. Sharp, late apex, done with ease. This is possible thanks to the fine tuning the team did to every aspect of the minivan, including better vehicle handling, more effective braking, and of course more power from the engine. After my drive with Dan and my own laps around Streets of Willow Spring, I'm left convinced that there's little that this stock 3.5-liter V6 engine paired with a six-speed automatic transmission – albeit highly tuned for racing purposes – can't accomplish.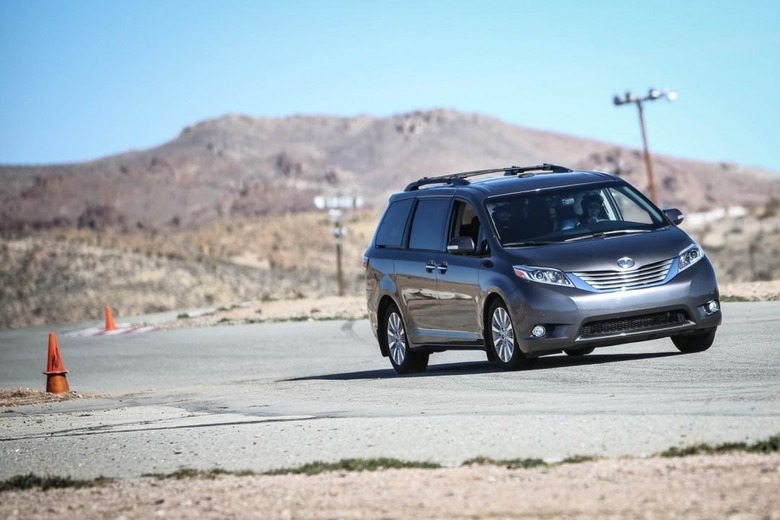 "When we produced the Sienna SE, we started moving in the direction of more sportiness beyond what you would find in a family hauler," Andrew Lund, chief engineer for the Sienna at the Toyota Technical Center in Ann Arbor, Michigan said of the project. "With the Sienna R-Tuned, we wanted to see if we could create a vehicle that would push the limits even farther. We definitely proved that it's possible."
Unfortunately, the challenge that I was really hoping this amped-up minivan would take on doesn't look like it'll happen. Toyota has no plans to bring the Sienna R-Tuned to market, disappointing moms and dads with heavy right feet all across the country. The lessons learned around ride dynamics and lightweighting, though, are almost certain to help shape future Toyota minivans, and I'm told the company is exploring the idea of an S-Tuned add-on which, for $4-5k, could give the Sienna some more sporting credentials. Maybe by the time I'm next in the market for a new family car, my options will be less sleep-inducing and more like something I'd be eager to drive.