Omron develops super-sensitive thermal detector for smartphones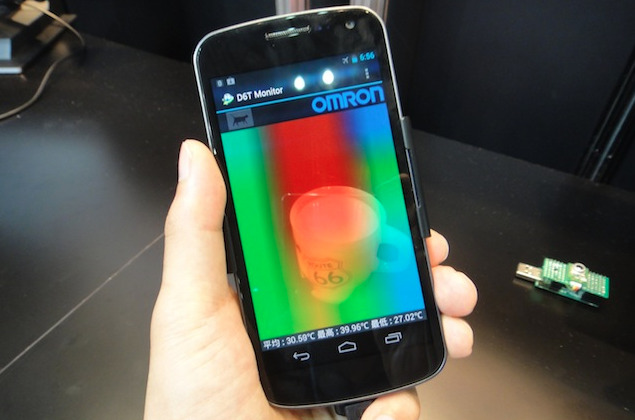 With the intention of eventually using it as an energy-saving device, Japanese electronics firm Omron has developed a thermal area sensor that can use a smartphone camera to detect heat. Dubbed the D6T non-contact MEMS thermal sensor, it can effectively detect people even when they remain completely stationary. A lot of sensors these days rely on motion for detection, but Omron's super-sensitive infrared temperature sensor works without it.
Omron has plans to continue working on bringing the sensor to consumer electronics, hoping that people will use it to detect devices that use a lot of power and thus opting to shut off lights or other household appliances and electronics. "We are aiming to contribute to the creation of new advanced energy-saving household appliances as well home and building energy management systems plus a wide variety of factory automation applications," Omron said in a press release.
The sensor can also be used to monitor the temperature of a room since it can detect even the slightest temperature changes, which could help identify possible factor line stoppages or areas that may be prone to overheating. Of course, if you really want, you could just use it to see how hot your coffee might be (as seen in the video) and figure out where your cat might be hiding in your house.
[via Omron]