Omega Double Eagle Co-Axial Chronograph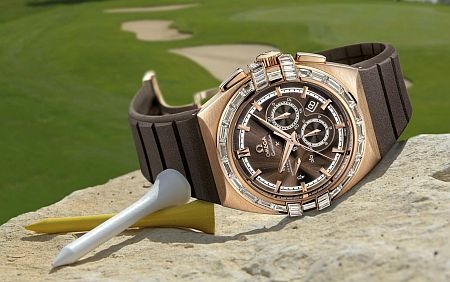 Sure they are aimed at golfers, but I'd wear one and I have never been any further into a golf course than one trip to the driving range and putting greens a long time ago. They are covered in gold and diamonds and they tell the time.
There are actually two watches, a mens and a womens, not much of a difference, just something of note. That means that the Omega Constellation (as in lots of diamonds) series got two new additions.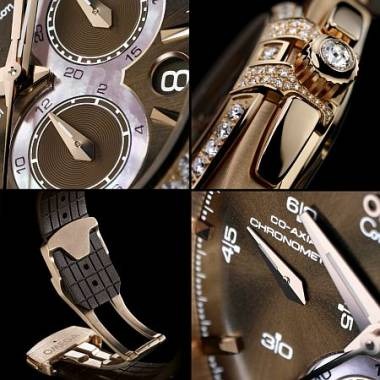 They wind themselves, which generally requires them to be used, as this function is usually produced by arm movement, sunlight, or something else of that nature that just requires someone to use it on a regular basis. The men's version has 22 baguette diamonds on the case, and 34 more on the claws, totaling 3.9 carats in diamonds. The women's surprisingly has a lower carat weight of diamonds, its case has 96 diamonds though totaling at 1.56 carats, there is also a briolette diamond on the crown that adds .2 carats to the aforementioned weight.
All that and the damn thing still has a rubber strap. No word on price or availability.
Omega's Double Eagle Co-Axial Chronographs for the golfers [via BornRich]