Omate X: a premium-looking companion smartwatch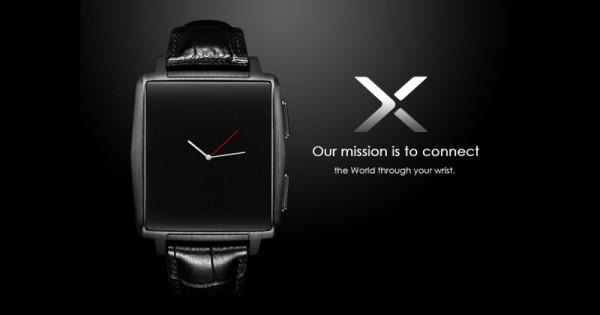 The arrival of Android Wear and its devices might have turned the world's attention towards the new generation of smartwatches, but pioneers in that field still have a thing or two to say about the matter. In time for its first anniversary, Omate, creator of the TrueSmart watch, is launching the Omate X, a smartwatch that is designed to be worn all the time.
The rationale for this new direction is that the Omate TrueSmart, a more powerful Android-based wearable, was designed to be your "Outdoor mate", keeping you connected during those times when you don't have or can't reach for a smartphone. Omate claims that it only answers 10% of use cases. The Omate X answers that other 90%.
Omate's new smartwatch is undoubtedly poised to take on its biggest rival, Pebble and its Pebble Steel. The Omate X sports a premium metal design with a curved touchscreen display and sapphire coating. The straps that come by default are genuine leather but they are removable and can be exchanged with any 22 mm strap.
Android fans might want to brace themselves for this part. Omate X will shed off the Android-based OS that drives the TrueSmart. Instead, it will be going for a real-time operating system (RTOS) just like Pebble does, this time using Nucleus RTOS. Unlike the TrueSmart, which was a standalone device on its own, the Omate X is designed more to be a companion piece to an iOS or Android device, pretty much like Pebble or Android Wear smartwatches for that matter. So it isn't surprising to see the specs have been taken down a notch in comparison. The CPU is now a newer MediaTek MT2502A, clock speeds unknown, and memory is now at 128 MB only. The 1.54-inch screen, same size as the TrueSmart, only holds 240x240 pixels.
In exchange for all that, the Omate X promises simplicity and longetivity. Like Android Wear's spiel, you're not going to do everything on this smartwatch, but you will be able to see updates that matter, like messages, email, etc. You can still control media playback and monitor your fitness via the smartwatch's accelerator. With not much load to carry, the 400 mAh battery is promised to last a week on a full charge.
The Omate X is also poised to undercut both of Pebble's offerings. Its $129 price is not only less than half of the price of a Pebble Steel, it is even cheaper than the $150 of a regular pebble. At least that's the price for pre-orders, which run from September 1 to 30. The first 1,000 pre-orders will have an Early Bird/Limited Edition serial number engraved on their Omate X. A September 1 event is being reserved, most likely for the official launch of the smartwatch as well as announcement of availability and, if any, pricing changes.