Olympus launches E-620, an entry-level DSLR with 12.3MP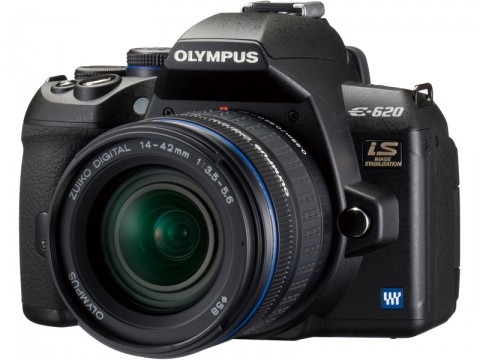 Olympus has today announced a new Four Thirds standard entry-level DSLR with features and price that would put smiles on many fans' faces. The E-620 packed many of the features from E-30, which included the newly developed 12.3 MP "Live MOS" image sensor and a 2.7-inch tilt-swivel LCD, in a smaller and lighter chassis.
The camera provides many of E-30's essential elements from image sensor, LCD, Multiple Exposures to an incorporated Art Filters System with 6 distinct filters from Pop Art, Soft Focus, Pale & Light, Light Tone, Grainy Film and Pin Hole. For $600 less than its much-capable sibling, the E-620 lacks the shooting speed and buffer (4fps vs 5fps, 5 raw vs 12 raw), has fewer AF points (7-point vs 11-point) and is equipped with a smaller magnification viewfinder (1.02x vs 0.96x).
Also, the max. shutter speed only tips at 1/4000s, which is common for an entry-level camera, and Multiple Exposure mode is only capable of doubling instead of quadrupling images as featured in the E-30.
Like the E-520, it's an ultra compact and feather weight DSLR, partly thanks to the nature of the Four Thirds standard. Weights at a mere one pound, it's the world's smallest DSLR with an Image stabilizer built in the body!
The Olympus E-620 will be available from May with a suggest retail of $699 for the body, or $799 for the Zuiko 14-42mm kit lens bundle.