Olympus announces new cameras that are tough, offer amazing zoom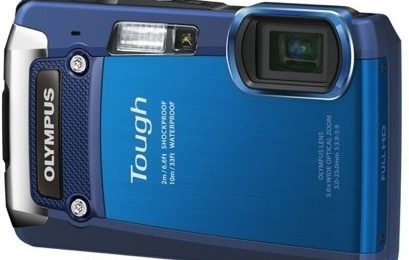 Olympus has taken the covers off three new digital cameras today, the SZ-31MR iHS, the TG-820 iHS, and the OM-D E-M5. Okay, so that doesn't mean anything. Unlike smartphones, digital camera model names are still just a confusing conglomeration of letters and numbers. But here's what is cool – the SZ-31MR iHS has 920,000-dot touch-screen LCD display, the TG-820 iHS offers protection from everything from water to being crushed, and the OM-D E-M5 has the world's fastest autofocusing system.
And that's just the beginning of the specs. Let's look at each of them individually. So going back to the SZ-31MR, it has a 16-megapixel sensor and an eye-popping 24x Wide-Angle Optical Zoom Lens. It also packs in a Multi-Recording feature that allows users to take photos and video simultaneously. There's functionality for movie and image stabilization, and it offers full HD video and HDMI control for 1080p playback. It will be available in April for around $400.
For the TG-820 iHS (pictured), it's all about durability. Olympus promises that it sets a new benchmark for "Waterproof, Shockproof, Freezeproof, Crushproof and Dustproof performance." The 12-megapixel sensor and TruePic VI image processor, originally developed for DSLRs, offer fantastic image quality. That's good to know if you ever need a crystal clear shot while 220 pounds of weight are being applied to your camera. Yep, it can withstand 220 pounds of force. This one will be available in March for around $300.
And finally the E-M5 is the first of a new series for Olympus, the OM-D brand designed to meet the needs of advanced photographers. The device has a 16.1-megapixel sensor, the world's fastest autofocusing system, the world's first 5-axis image stabilizer, and a touch-screen OLED display. This high-end camera will sell in April for between $1,000 and $1,300.