Office 2016 Public Preview: co-editing, cloud by default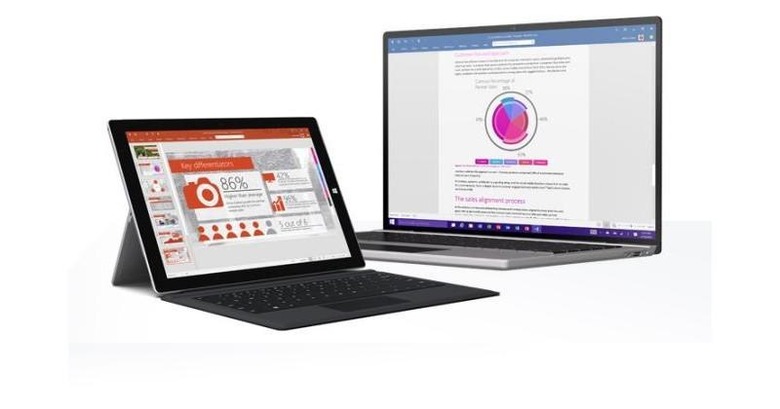 It seems that Microsoft's Office team is almost ready for a big release. The next version of the desktop productivity suite, Office 2016, will carry a ton of features, some of which are both convenient and fancy but also perhaps a bit unsettling for some more traditional users. One of the highlights of the upcoming release, which can now be tested in this public preview, is the addition of collaborative editing. That said, many of these new features relies on a deeper integration with Microsoft's own OneDrive cloud storage, whose presence is palpable in almost every corner.
Although collaborative editing has already been available on the Office Online version of the apps, this is the firs time the feature will be included in the desktop versions. Even then, however, it's not yet complete, as the co-editing feature is available only on Word 2016. At least for now. Like any other collaborative word processor (like Google Docs), the feature will allow you to see who edited what part of the document, both after the fact and in real time.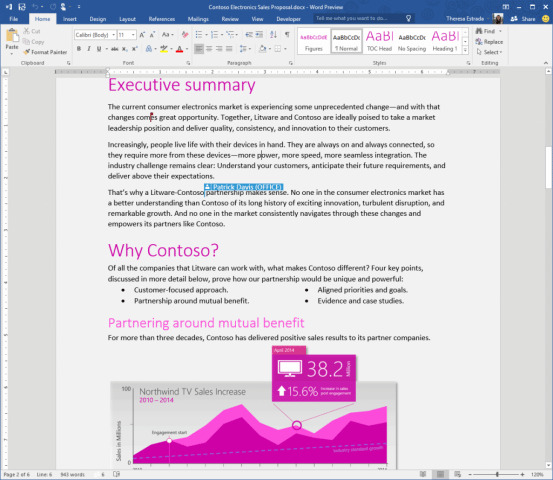 This feature, however, relies on connecting documents with the cloud. That is why in Office 2016, documents are saved directly on OneDrive by default and can be shared from there. This might ruffle a few feathers, especially users who couldn't care less about cloud storage or are easily flustered by such new concepts. Hopefully, it will be an easy flick of a switch to go back to saving to local storage by default. Another OneDrive-integrated feature is e-mail attachments in Outlook. Or to be exact, the death of e-mail attachments in Outlook. Again by default, attachments are turned into simple links to files that are stored in Microsoft's cloud.
If some of these features sound familiar, it's because you've probably seen or even used them in Google Docs and Gmail. While it does smell like catching up with Google, it's not necessarily a bad thing, at least not for Microsoft. It could potentially even threaten Google's products as MS Office starts to integrate the advantages that only Google's suite could provide.
Of course, those aren't the only highlights of the 2016 release. Microsoft has tried to make its apps smarter. Tell Me, for example, lets users simply type the action they want to perform and Office apps will highlight the commands that will accomplish those. We've also covered Clutter, a feature in Exchage and Outlook that utilizes machine learning to bubble up what it thinks are important to the user, pushing low priority emails and documents out of the way for a later time.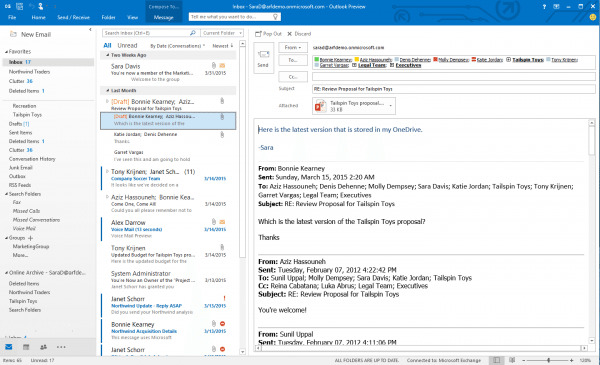 This is the first version of Office 2016 that is being made available for the public to try. The release is sort of a reassurance from Microsoft that it isn't neglecting its desktop users, despite Office's forays into other platforms, particularly Android and iOS. Microsoft also promises to add new features to the preview every month as testers trek the road towards a Fall release.