OCZ PC2-9200 Flex II DDR2 Series - World's Fastest 4GB kit, and it uses DDR2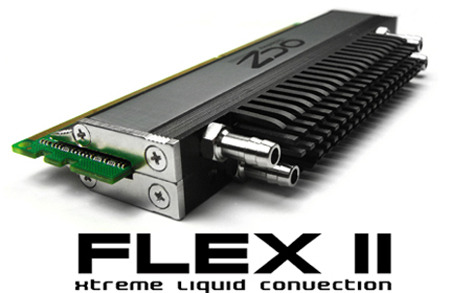 I wouldn't even think of overclocking these DDR2-1150 memory chips considering they already require the use of an intense system of metal fins to dissipate heat and water cooling seems to be highly recommended with two lines going in and two going out of each stick's processor-worthy heatsink. If you absolutely have to be on the bleeding edge of technology and you haven't already switched to a board with DDR3 on it, these are the chips for you.
The kit comes with 2x 2GB modules and will have the inside of your computer case looking like a damned water works, especially if you've already equipped everything else in your case with water blocks. I mean just look at this picture from OCZ that has hoses going to the memory, the processor, the chipset, likely the graphics card(s), it's just ridiculous.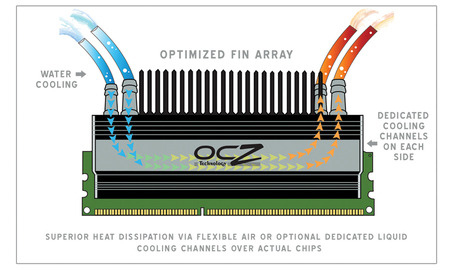 They come in 240 pin DIMMs requiring 2.1 volts, they are unbuffered, operate at 1150MHz, and operate with CL 5-5-5-18 parameters. They come with the Flex II XLC Heatsink (this might be available on its own for overclocking). Inside the box you get the memory kit, the 3/8" and ½" barb adaptors, 4-way manifold barb, and 40" of the properly sized plastic tubing as well as a manual. No word on price or availability and a Google search yielded 0 vendors with the product listed.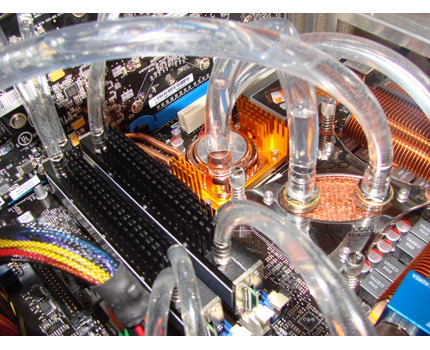 [via PC Launches]