OCZ boasts Thumb Drive speed with eSATA Interface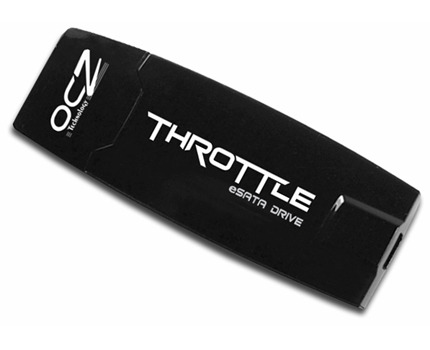 USB thumb drive is convenient. The interface is standard with most computers made in the last decade and almost guarantee to work in any platforms. The only downturn is its speed remains an area for improvement. OCZ engineer looks to break the tradition, their new line of ultra fast thumb drive has an eSATA interface instead of a conventional USB ones. The result is sensational; the new integration boasts an astonishing transfer speeds of 90MB/s in reading and 30MB/s in writing.
The OCZ Throttle eSATA drive family ranges from 8GB, 16GB to 32GB capacities. Like the USB with plug-and-play capability, the Throttle allows instantaneously data access from any computer without the need to install any additional hardware or drivers. Product availability and pricing have not yet announced.