Oculus Rift S beefs up tracking and resolution for sleeker VR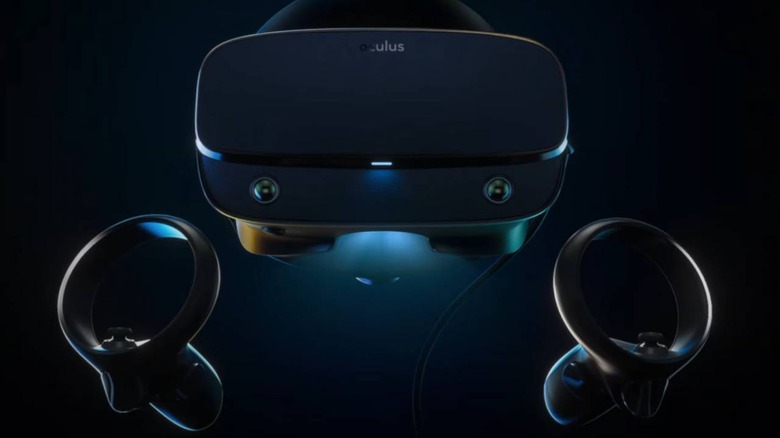 Apparently, launching one VR headset this spring isn't enough for the folks at Oculus. In addition to the standalone Oculus Quest, the company announced today that it'll also be launching the Oculus Rift S. The Rift S brings back the tether, meaning you'll need a relatively beefy gaming PC to use it, but in return Oculus promises "access to the most immersive content that VR has to offer."
Details on the Rift S are still fairly slim. For this initial announcement, Oculus seems to only be describing the Rift S is broad strokes, which means that we'll be waiting a little while for precise specifications. Still, the company is sharing enough information today to pique our interest, so let's dive into what we know.
Oculus starts off its announcement by confirming that the Rift S will use the Oculus platform – hardly a surprise, but it does mean that it'll have an extensive library of games and apps on launch day. The company also says that the headset utilizes "improved optics and display technology" – presumably over both competitors and predecessor Oculus headsets – to offer higher pixel density. "Games on Rift have never looked better," the company boasts, again without getting too specific about what to expect.
Oculus also says that it has teamed up with Lenovo to co-design the headset, which results in a more comfortable headstrap, better light blocking, and better weight distribution. Perhaps the biggest announcement of the day, however, is that the Rift S will also use the inside-out tracking technology created for the Quest. That, importantly, means no external sensors to track movement. Inside-out tracking has also been built into the revamped Oculus Touch controllers, which should mean more precise hand tracking.
Finally, the Rift S will feature a "stereo-correct passthrough feature" called Passthrough+. "It utilizes core Oculus runtime advancements, including ASW, to produce a comfortable experience with minimal depth disparity or performance impact," Oculus wrote. "It's especially helpful any time you need to step or see outside of your play space."
That's all we're getting for now, though Oculus did confirm that the Rift S will cost $399 – the same price as the Oculus Quest – when it arrives this spring. Oculus says that it'll be sharing more details on the Rift S in the coming weeks, so we'll definitely be keeping an eye out for those. While we wait, head down to the comments section and give us your early thoughts about the Oculus Rift S.