Oculus Quest gets hand tracking update this week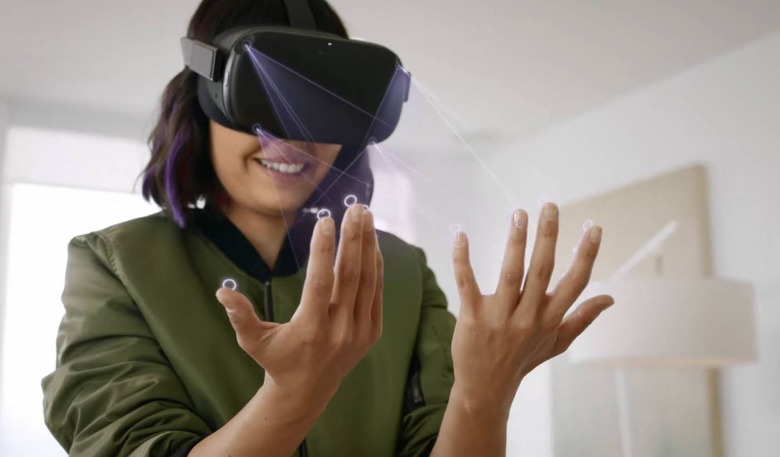 Oculus and Facebook made a lot of announcements at Oculus Connect 6 in September, but one of the biggest announcements was that Oculus Quest would be getting a hand tracking feature. With hand tracking, users will be able to ditch the controllers and use their hands to interact with objects in VR. Originally scheduled to go live at some point next year, Oculus has moved up release and will be launching the hand tracking update for Oculus Quest this week.
In its announcement today, Oculus calls this an "initial version" of hand tracking, and considering that Quest users are getting the feature before developers do, that's an appropriate description. While hand tracking is going live for users this week, Oculus won't be shipping an SDK for the feature until the week of December 16th.
Because of that, hand tracking functionality will be limited at first. Until developers use the SDK to implement hand tracking in their apps and games, you'll only be able to use the feature in Quest's Home interfaces and in some first-party apps like the Oculus Browser and Oculus TV. There will be a toggle in the Quest Home menu that you can use to switch between hand tracking and controllers too.
Hand tracking will be shipping in the version 12 update for Quest. Once you've applied the update, you'll be able to turn on hand tracking in the Experimental Features menu. Though it'll be a little barebones at the start, Oculus says it will continue to build out the feature as we move into 2020.
Similarly, given our proximity to the end of the year, Oculus doesn't expect any third-party apps to support hand tracking until 2020 as well. You never know, though – some developers who are quick on the uptake may be able to implement the feature by the end of the year. We'll keep an eye out for more information – specifically a precise release date for the version 12 update – so stay tuned.