NZXT debuts new Sleeved LED Kit for adding bling to your PC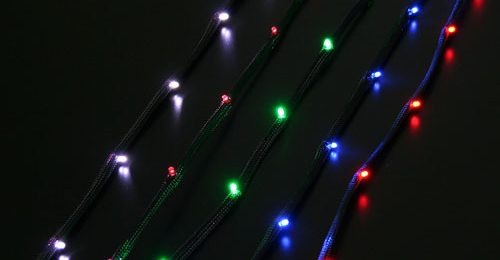 When we talk about NZXT, we are typically talking about a new PC case or power supply. The company also has a line of gear and accessories for making your PC look better. A new product has been added to the accessory line at NZXT called the Sleeved LED Kit that makes it easy to add lights inside your computer case without having to resort to CCFL lights that take up lots of space and draw lots of power.
The new LED kit has the lights put inside the same sort of material that it typically used to sleeve cables inside the PC for a streamlined look. The sleeves hide the wires needed to power the LEDs and make the setup flexible and easier to work with in the tight confines inside a PC chassis.
The kit is offered in five different colors with red, green, white, blue, and orange lights. There are two sleeve lengths offered with a 1-meter and a 2-meter kit. Each strip of lights has a sensitivity adjustment with high, medium, and low settings and the lights can be turned off as well.