NZXT Cryo S notebook cooler announced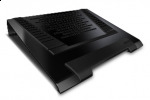 NZXT announced their new Cryo S today, a notebook cooler that's meant to keep your gaming notebook cool and allow for the best possible performance. The cooler is made from brushed aluminum and it's sure to compliment your gaming set up well.
The Cryo S features two 120mm fans that are adjustable and can be be used with any notebook that's up to 15-inches. The top is coated in rubber, which helps keep the notebook elevated a bit and allows for more ample airflow.
You can connect the Cryo S by means of USB or an AC adapter. It also contains two USB ports for added connectivity. And since many gamers are concerned with the overall style of their computer accessories, you can rest assured this one is sleek and nice to look at. You can get the NZXT Cryo S this month from Newegg.com for $49.99.