NYPD to equip every officer with Windows smartphone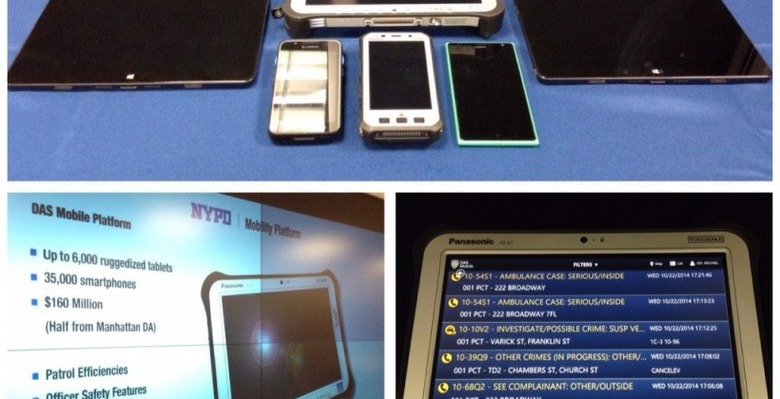 New York City Mayor Bill de Blasio revealed on Friday that all 35,000 of the city's police officers were going to be issued smartphones as part of a $160 million technology initiative. While it wasn't officially stated, a glimpse at some of the devices, which also includes 6,000 tablets to be installed in police vehicles, seems to indicate that Windows will be operating system flavor.
More than just attempting to dress up the NYPD as high-tech officers, the smartphones and tablets being issued aim to have police better connected while in the field. This includes features such as being able to access police databases, and real-time info from 911 dispatchers, potentially including notes on a developing situation.
Among the devices shown, there was a tablet from Panasonic's Toughbook line, as well as one Nokia Lumia smartphone, running Windows and Windows Phone, respectively. Should the NYPD be exclusively relying on Windows smartphones and tablets, it marks a departure from an earlier test program that saw officers given Android-powered devices that lacked the ability to make phone calls.
While a specific rollout schedule wasn't provided, an outline for future development of the NYPD smartphone program pointed to the use of fingerprint scanning in the field next year. Such technology is to be used by officers for checking identities on the spot, removing the need to transport someone back to a station.
VIA GigaOm
SOURCE City of New York