NYC Police get Volt patrol cars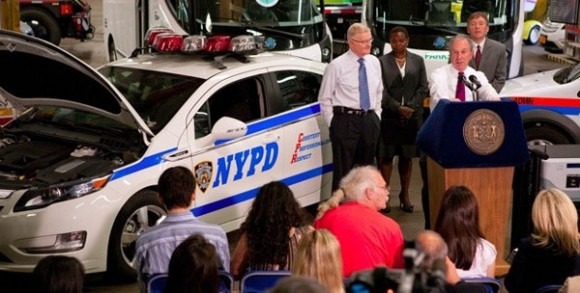 Green is a big deal in cities and states all around the country with the need to not only reduce the oil we import but to reduce pollution as well. One of the most interesting green vehicles is the Chevy Volt. The cool thing about the Volt is that it uses batteries to propel the car on electricity alone and then when the batteries run out the Volt uses a gasoline engine to charge the batteries for longer driving range. These cars are especially effective at increasing efficiency in town.
NYC has added 70-new plug-in vehicles to its citywide fleet and some of the vehicles are a fleet of Volt police cruisers. I would think as much as police drive that the battery power would only last a short time before the Volt was running on the gasoline engine and not getting the sort of economy that some of the new fuel sipping normal cars get like the Chevrolet Cruz Eco are capable of.
The police department budgets for fuel with a fleet as large as the NYC fleet is enormous. A small savings in fuel costs across the fleet can add up to some huge savings across the board. NYC purchased a total of 50 Volt vehicles, ten EV Transit Cargo vans from Ford, and ten EV Navi-star E utility trucks. I would bet that Chevy practically gave the Volt's to NYC for the marketing alone. Might I suggest anyone living in NYC call the Volt driving police Vo-Po.
[via Autoblog Green]