In case you hadn't heard the news, the open Crysis 3 multiplayer beta kicked off today. Those playing on PC will be pleased to know that NVIDIA is just as excited as you are, releasing its new GeForce 313.95 beta driver that's said to increase multi-GPU performance by as much as 35% in Crysis 3. Naturally, the boost you get from this beta driver will vary depending on your setup, but those with a serious gaming rig should expect at least some improvement when trying to run the Crysis 3 beta.
This also happens to be NVIDIA's first driver release of the new year, and with the company claiming improvements in 17 different games, you could argue we're starting the year off with a bang. While the main focus will definitely be on the improvements made for the Crysis 3 beta, others like Assassin's Creed III, Black Ops II, and Far Cry 3 are also benefiting from single-GPU and SLI performance boosts. So, if you're not planning on participating in the Crysis 3 beta and are playing some of 2012's biggest games instead, you'll still want to grab this driver.
Of course, part of the problem is that Crysis 3 isn't even out yet, so it's hard to know what to expect from the beta. NVIDIA has compiled a list of recommended settings for a handful of its GeForce GTX 600 series cards. Again, keep in mind that you may need to change a few things depending on your hardware setup, but NVIDIA says that these recommended settings should serve as a good jumping off point. Sorry to say, but if you're using a GTX 650, it looks like a lot of your settings will have to go down to low. Check out the full chart below.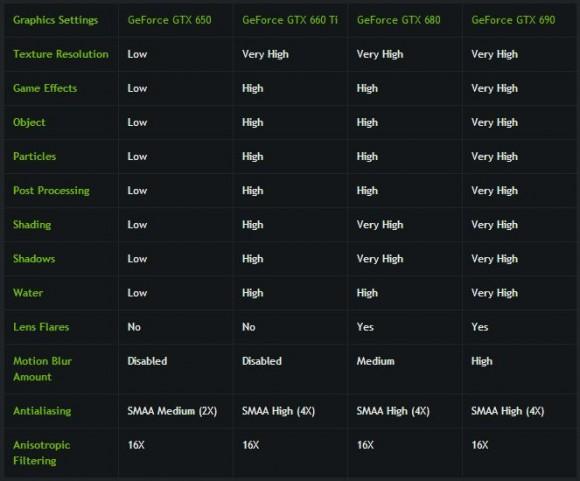 This chart is just the tip of the iceberg though, with NVIDIA posting a series of performance bar charts to show how a number of its GPUs performed before and after installing the driver. NVIDIA has Windows XP, Windows 7, and Windows 8 packages available for desktop setups, while those on laptops will have access to Windows 7 and 8 package donwloads. If you're interested in downloading the driver, you can grab it now from the official GeForce site.