Despite having mostly abandoned the "consumer" Android market, a.k.a. smartphones, NVIDIA has always prided itself as being a good Android citizen for the devices that it does carry. That usually translates to fast updates that would, and should, put other OEMs to shame. It went even further and will make the same features on the new NVIDIA SHIELD available on the old NVIDIA SHIELD. Now it seems it might also be doing good by its tablet users, somewhat. According to a Google+ response from NVIDIA, the more recent SHIELD Tablet K1 will be getting its Android 7.0 Nougat update in a few weeks' time.
The NVIDIA SHIELD Tablet K1, though refreshed, might feel old by today's standards, especially when you have devices with, say, an NVIDIA Tegra X1 or 3 GB of RAM or more. And especially when the Tablet K1 is a very minor bump up from the first NVIDIA SHIELD, just as the new NVIDIA SHIELD is almost not an upgrade compared to its predecessor. We're seeing a pattern here.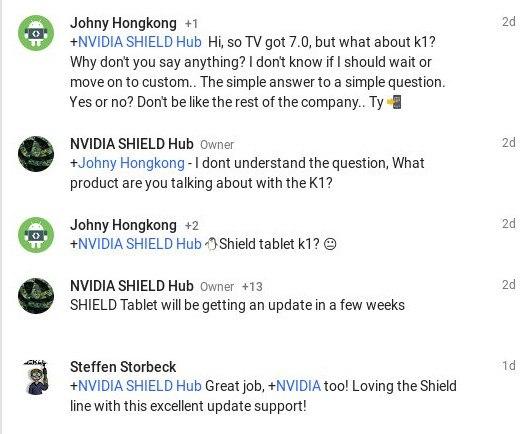 Nonetheless, the SHIELD Tablet K1 is still a formidable gaming device, even today, and definitely deserves an updated software. But what will Android 7.0 bring to the device? In addition to optimizations, especially on the battery front, SHIELD Tablet users might particularly enjoy the multi-tasking features, especially split screen functionality.
What's not yet certain, however, is whether the Tablet K1 will also receive the new "SHIELD Experience 5.0" features that came along with Nougat on the SHIELD Android TV. The device won't be able to handle 4K video out anyway, though improvements to GameStream will definitely be welcome. As GeForce NOW is server-based anyway, those could also be immediately available for the less powerful tablet.
An even bigger question is whether the original SHIELD Tablets, which happen to also be running on a Tegra K1 processor, will get the update as well. So far, it seems that NVIDIA is preparing those older models for obsolescence. Nothing lasts forever, sadly, especially the good things.
SOURCE: +NVIDIA SHIELD Hub