NVIDIA outs more GTX 500M series notebook GPUs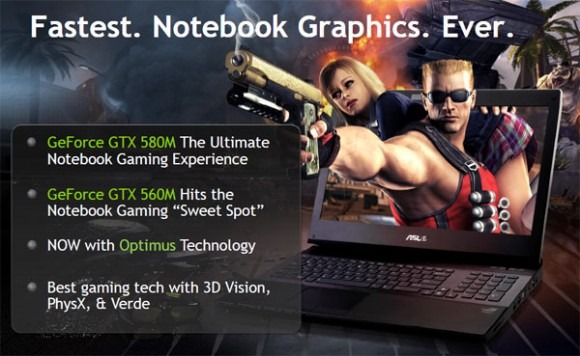 NVIDIA has unveiled the next generation of its mobile graphics processors in Taipei today and the geeks over at Netbooknews are there to see the new hardware. We have already heard about the GTX 560M GPU previously and it is expected to be seen in notebooks very soon. Along with the GTX 560M comes the GTX 580M as well. The 580M is the ultimate notebook gaming experience according to NVIDIA.
Both of these GPUs have Optimus technology built-in to give power savings when needed and performance when plugged in. The GTX 580M has up to 385 CUDA cores and a processor clock up to 1240MHz. The memory clock can be up to 1500MHz with a 256-bit memory bus and 96GB/s of memory bandwidth. The 580M has 2GB of GDDR5 memory. The GTX 560M has 192 CUDA cored, a processor clock up to 1550 MHz, a memory clock up to 1250MHz, and 1.5GB or 3GB of memory.
The memory bus of the 560M is 192-bit and it has up to 60GB/s of memory bandwidth. Naturally, NVIDIA talks up the 580M versus the AMD Radeon 6970M GPU and the 580M beats it across the board on some of the most popular gaming benchmarks around. The 580M is up to 30% faster than the AMD part on 3DMark Vantage.
Between the two GPUs I already mentioned is the GTX 570M. It has up to 336 CUDA cores, up to 1150MHz processor clock and up to 1500MHz on the memory clock. The card uses 1.5GB of GDDR5 RAM and has a 192-bit memory bus and 72GB/s of memory bandwidth.