NVIDIA levels up with Big Format screens, Freestyle filters at CES 2018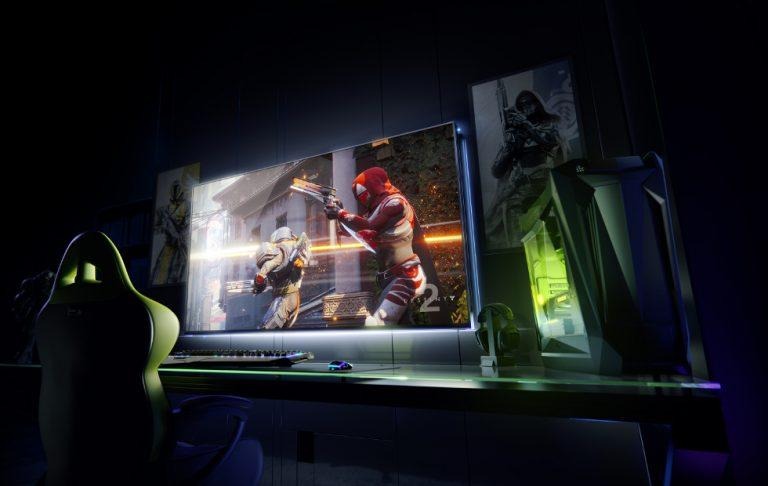 CES is always a great way to start the year with a bang, flaunting your latest wares and innovations that will set the pace for the rest of the year. It's therefore no surprise that NVIDIA is pulling all the stops at CES 2018 by announcing its biggest gaming thrust yet. And we mean that almost literally too, as the graphics chip maker unveils a new breed of PC gaming-oriented screens it calls Big Format Gaming Displays.
BFGDs, as NVIDIA calls them, is practically a mashup of all of NVIDIA's latest graphics and display technologies under one huge 65-inch screen. There's, of course, G-SYNC that reduces tearing and latency, which now comes with HDR support in glorious 4K resolution. NVIDIA is also jumping on the 120 Hz refresh rate bandwagon, which is starting to gain mainstream interest thanks to the Razer Phone and Apple's "ProMotion" display.
But while the Big Format Gaming Display is primarily designed for PC gaming, it isn't limited to that all. For hidden inside its frame is a Android TV SHIELD, which gives access to no just Android games, some of which are unavailable on even the most powerful smartphones, but also streaming media and even Google Assistant. NVIDIA has partnered with OEMs such as Acer, ASUS, and HP to make its BFGDs a reality and aims for a summer retail launch.
At CES, NVIDIA is also jumping on the Snapchat and Instagram bandwagon. Well, sort of. It's introducing a rather odd idea to the world of high-end PC gaming: filters. NVIDIA calls its "Freestyle" and it basically applies post-processing filters exactly while you're playing. But more than just letting gamers express their creativity, these Freestyle filters can also benefit those with visual impairments, with filters like Colorblind, Contrast, and Night Mode, ensuring that gaming becomes accessible to everyone. The long list of Freestyle filters include:
• Black and White
• Color
• Colorblind
• Contrast
• Details
• Exposure
• Half Tone
• Mood
• Night Mode
• Retro
• Sepia
• Vignette
• Depth of Field
• Special FX
• Adjustments
All these large screens and fancy filters would be pointless without content that would take advantage of those. The BFGD, in particular, would require a pretty powerful graphics card, among other things. But if you're short on cash, NVIDIA has the next best thing: game streaming via GeForce NOW. Previously available in limited testing, NVIDIA is now announcing the start of the free beta stage for GeForce NOW.
With the service, which is still limited regionally to North America and some parts of Europe, most Windows desktops and laptops can become a gaming computer at very little additional cost. In addition, NVIDIA is expanding the number of games available in its catalog to include Ubisoft's Uplay gaming portal. That means access to Tom Clancy's Rainbow Six Siege, Assassin's Creed: Black Flag, Tom Clancy's The Division, For Honorand Tom Clancy's Ghost Recon Wildlands, among other titles.