NVIDIA GeForce Gamescom driver boosts performance, adds low latency mode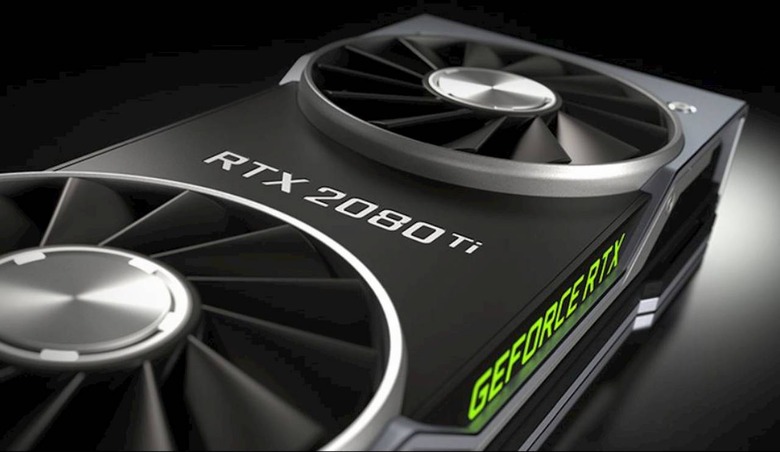 NVIDIA has already enjoyed a good start to Gamescom, announcing yesterday that ray tracing will soon be coming to Minecraft. Today, however, the company announced the roll out of a new GeForce Game Ready Driver specifically for Gamescom. The driver adds a lot of features, but perhaps most importantly, it's bringing a performance boost to a number of popular games.
NVIDIA says that the new Game Ready Driver will serve up performance boosts in Apex Legends, Battlefield V, Forza Horizon 4, Strange Brigade, and World War Z. Performance increases go as high as 23%, but obviously, those boosts vary on a game-to-game basis. Still, in Apex Legends, RTX 2080 Ti owners will see a performance increase of 21% running the game at 1080p and a 19.1% increase at 1440p. Check out the images in the gallery below for specifics on each game listed above across NVIDIA's RTX line (2060 Super, 2070 Super, 2080 Super, and 2080 Ti).
Also going live in beta with this new driver is an ultra-low latency mode, which NVIDIA says will give "gamers the ability to get the low latency feeling of high framerates, without having to compromise their graphics quality settings or resolution to get there." Essentially, this allows "'just in time' frame scheduling," meaning that frames are sent to your GPU's render queue right before they're needed, reducing graphics latency by as much as 33%.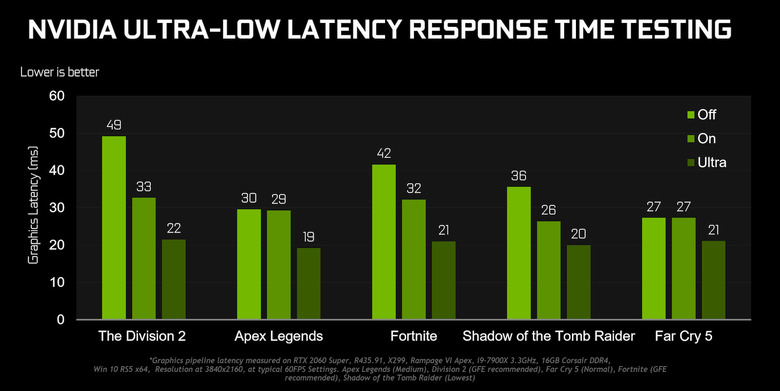 NVIDIA says that this low latency mode will work best in games that primarily use your GPU and have framerates between 60 and 100 FPS. To turn it on, open up the NVIDIA Control Panel and select "Manage 3D Settings," then look for the "Low Latency Mode" option. When Low Latency Mode is turned off, games will queue 1-3 frames at a time, and when it's turned on, the number of queued frames will be limited to one. When you set Low Latency Mode to ultra, however, that's when you'll enable this "just in time" rendering and cut back on latency.
Next up we've got GPU Integer Scaling, which will result in better looking retro and pixel games on high-resolution displays. As NVIDIA explains it, a number of pixel games scale to fit the display at high resolutions, which can lead to visuals that are blurry and not as sharp as we'd prefer with our face-melting graphics cards. With Integer Scaling turned on through the NVIDIA Control Panel, pixel games will remain sharp even in 4K, as this side-by-side comparison from FTL: Faster Than Light shows: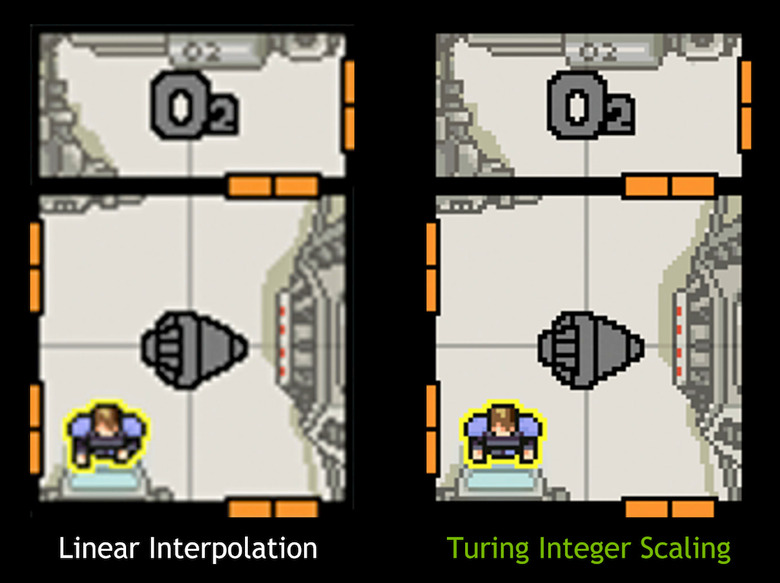 NVIDIA has also added a new Freestyle sharpening filter to GeForce Experience. This filter does precisely what it says on the tin, offering up customizable sharpness on a per-game basis that's accessible through the GeForce experience overlay. This new Sharpen filter replaces GeForce Experience's old "Detail" filter, with NVIDIA claiming that the performance impact of applying the filter has been halved as well.

In short, this new GeForce driver offers quite a bit, with most of these new features launching in beta. There's even more shipping along with this new driver, including new support for three new G-Sync monitors from Acer and ASUS, 30-bit color support across all of NVIDIA's GPUs, and optimal play settings for additional games like DotA Underlords, Wolfenstein Youngblood and Bloodstained: Ritual of the Night. For more on this driver or to download it for your system, head over to NVIDIA's website.