nVidia dropping new nForce 780i gaming motherboard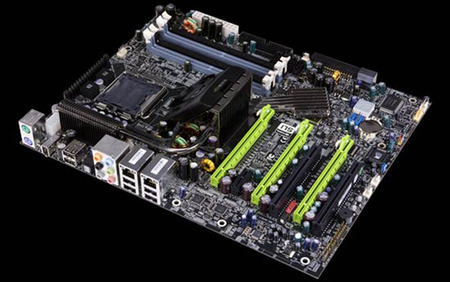 This is about as cutting edge as I've seen a motherboard in a long time, lets start with the fact that it supports the Intel Yorkfield CPUs. From there we'll move on to the 3-way SLI capability (can't you see the 3 PCIe x16 slots?) and the 1333MHz FSB speed.
It supports PCIe 2.0 and SATA at 3.0 Gb/s, up to 2 PATA drives, gigabit Ethernet, and up to 10 USB 2.0 ports. There appears to be integrated audio, likely in with the HD and 7.1 phrases peppered into the description, and four slots in a dual channel configuration for RAM.
There are two RJ-45 jacks and a pair of PS/2 ports, which bugs me, because they really need to start phasing those things out, I have yet to get a keyboard or mouse, other than the ones bundled with budget computers, that still use PS/2 ports. Anyways, the chipset also has its own heatsink which appears to be larger than the one on my processor. So, if you want top of the line, here it is, from Falcon Northwest, no word on where you can get it or for how much, but I want one.
NVIDIA nForce 780i motherboard supporting Intel Yorkfield CPUs [via PCLaunches]