Nuvola NP-H1 computer is designed for 4K Ultra HD video delivery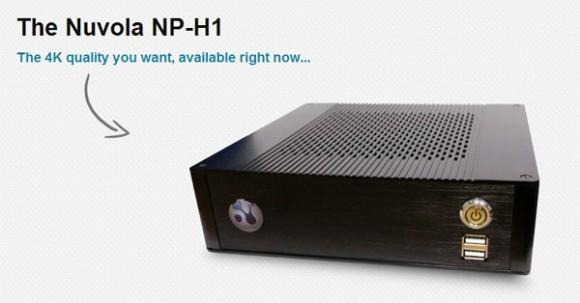 A company called Nuvola has announced a computer designed specifically to deliver 4K Ultra HD video to any 4K capable display. The computer is called the Nuvola NP-H1 and it's a small form factor device. The small computer measures 2.2 x 8.1 x 8.1 inches and weighs 3 lbs. 2 oz.
Inside small chassis hides an Intel Core i5-4670T 2.3 GHz processor and a GPU. The GPU is a Haswell HD 4600 unit. The small form factor system uses a low profile CPU fan and offers 320 GB of storage. Storage is handled by a traditional 2.5-inch 5400 RPM hard drive
The machine also has 4 GB of RAM and uses a 60 W AC power supply. The NP-H1 also has an Intel B85 chipset inside supporting 5.1 3D audio sound. Connectivity options on the computer include a gigabit ethernet port, VGA output, HDMI 1.4, and the DVI port. The backup also has five-channel analog audio output, a digital audio output, but the us to keyboard port, a pair of USB 3.0 ports, six USB ports.
Extra storage can also be plugged into the computer's eSATA port. The machine ships with Windows 7 from the factory and SSD storage is an option. The manufacturer says that this 4K capable video streaming device is about half the cost of other similar devices on the market with an MSRP of $699. The machine is ready to ship now.
SOURCE: Nuvola