NuForce shows off audiophile grade DDA-100 amp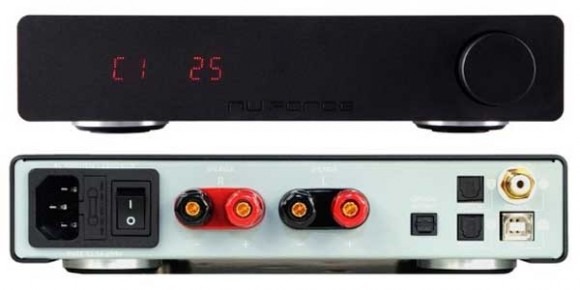 NuForce has been producing a number of different digital amplifiers and other products for audio fans. The company's products are aimed at audiophiles who enjoy high-end sound and want the best quality possible. The company has unveiled its latest digital amplifier called the DDA-100 using a Class-D design.
One of the key features of the amplifier is that the design converts the digital audio signal from a computer or other home audio source to analog form at the last stage. That conversion is handled in the PWM amplifier output stage. NuForce says that this design gives the listener the same performance level achieved through much more expensive audio gear.
The DDA-100 doesn't require the DAC stage that is found in most digital audio products today. Rather than using that DAC stage, the PWM power amplifier stage is modulated by the incoming signal and digital to analog conversion happens at the speaker output. The amplifier is a digital only product.
It's able to accept four digital sources via a single USB port, one coaxial, and two optical inputs. It also includes a remote control allowing you to change control inputs and adjust the volume from across the room. The DDA-100 is able to drive speakers with 75 W RMS power output and 250 W peak capability per channel. The DDA-100 amp is available globally for $549 right now.