Dual-screen smartphones aren't really a new concept, but they're a pretty rare sight. They've taken a couple different forms throughout the years too, whether it was the original Yotaphone's rear-facing E-ink display or the ZTE Axon M's foldable design. ZTE is back at it again today with the Nubia X, but this time around, that second screen actually has a design purpose rather than just being a novelty.
A quick look at the Nubia X is all it takes to show the benefit of adding a rear-facing display. The front display nearly stretches from edge-to-edge, and it does so without a notch. It's able to do that thanks to the simple fact that there isn't a front-facing camera on the phone – instead, all of the cameras are situated on the back of the device, and that secondary display is there to help you take selfies.
It's actually a smart solution to the notch problem, which has plagued users who just want a fullscreen device without any kind of cutout at the top. The front display on the Nubia X clocks in at 6.26 inches with a resolution of 1080 x 2280 and impressive screen-to-body ratio of 93.6%. The back-facing always on display, on the other hand, comes in at 5.1 inches and a resolution of 720 x 1520.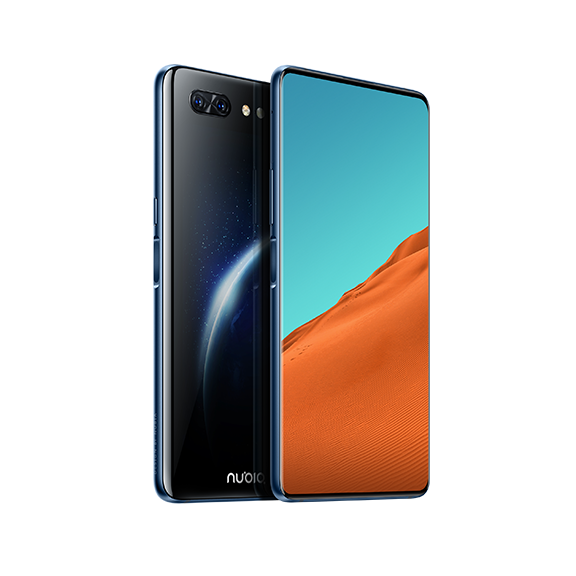 While you might think that you'll only ever use the phone's forward facing display, there's reason to switch to the back display beyond just taking selfies, as it's also been outfitted with a software blue light filter that's aimed at saving your eyesight and helping you fall asleep at night. You can even surface additional game buttons on the rear-facing display as you play on the front one, which is a nifty benefit of that second screen.
That dual camera around the back includes 16MP and 20MP lenses, so your selfies could very well come out better looking than they would with most other phones. There's also a Snapdragon 845 running the show in tandem with 6 or 8GB of RAM, a 3,800 mAh battery, and storage options that range from 64GB all the way up to 256GB. The Nubia X, which runs Android 8.1, has even been outfitted with two fingerprint scanners – one for each side of the phone.
The Nubia X is launching in China with starting price of 3,299 yuan (around $473), which seems like a pretty good price for what you're getting. The could be the first dual-screen smartphone worth buying, but unfortunately, we're not likely to see it launch here in the US. Until ZTE says otherwise (which is probably won't do), we're left admiring this quirky phone and its super slim borders from afar.