NTT DoCoMo AQUOS PHONE SH-12C: 8MP, 3D recording, more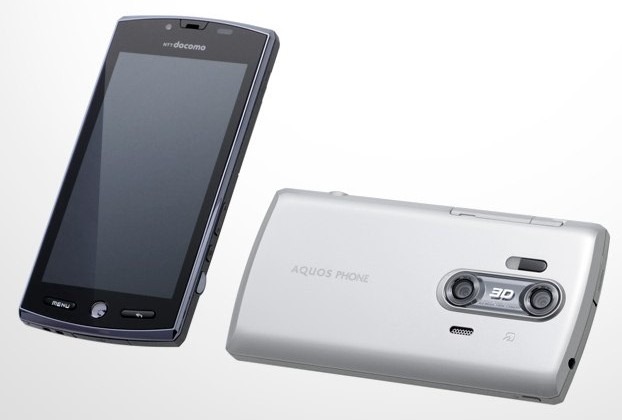 NTT DoCoMo has launched a 3D Android smartphone to take on the HTC EVO 3D and LG Optimus 3D, the AQUOS PHONE SH-12C. Made by Sharp and running Android 2.3 Gingerbread, the SH-12C has a twin 8-megapixel camera array on the back, a 4.2-inch qHD 960 x 540 display on the front, and a 1.4GHz Qualcomm MSM8255 processor inside.
There's also WiFi, Bluetooth, GPS, digital TV and an HDMI output, despite the phone measuring in at 64 x 127 x 11.9-13.8 mm. The display is a glasses-free 3D panel, and the camera has onboard ProPix image processing and various auto scene modes.
NTT DoCoMo slap the TapFlow UI on top, and of course there are the usual Android niceties. The Sharp AQUOS PHONE SH-12C will drop in Japan on May 20, price tbc; no word on whether Sharp will cook up versions for North America and/or Europe, but we're hoping they do.
Press Release:
NTT DOCOMO Unveils 24 New Mobile Devices

— Including biggest and most diverse lineup of smartphones —

Products & Services

TOKYO, JAPAN, May 16, 2011 — NTT DOCOMO, INC. announced today its 2011 summer lineup of 24 new mobile devices for launch on or after May 20, including nine smartphones, the largest and most diverse collection of smartphones ever released by DOCOMO, plus a wide variety of feature phones compatible with DOCOMO's i-mode™ mobile Internet platform, as well as mobile Wi-Fi® routers for DOCOMO's Xi™ (read "Crossy") LTE extra-high-speed service.

The smartphone lineup offers user-friendly features for tethering, mobile-wallet (Osaifu-Keitai™) and infrared-based data exchange, plus downlink speeds up to a theoretical maximum of 14 Mbps starting from early June. The lineup also boasts the world's first wirelessly chargeable smartphone. All Android™ smartphones, including the globally popular Xperia™ and GALAXY models, are preinstalled with Android 2.3.

DOCOMO's new lineup meets a broad range of needs for mobile users in Japan:

Numerous i-mode services and technologies available for smartphones, including Area Mail™ disaster information service, i-channel™ push-based information service and Melody Call™ ringback tones.

Smartphones offering enhanced convenience and operability thanks to the new "docomo Palette UI" feature for easy sorting, searching and management of apps.

Eleven high-spec, i-mode-compatible feature phones equipped variously with 3D screens for dynamic viewing, HD-quality cameras and much more.

The i-motion™ video-clip distribution service for FOMA™ 3G feature phones now offers 50 MB capacity for both long and high-definition video. Batch downloads of various content are possible with DOCOMO's new "content package" service.

Two mobile Wi-Fi routers compatible with DOCOMO's Xi-brand LTE service, offering fiber-optic-level mobile connectivity for wireless devices. LTE service will include Japan's six largest urban metropolises by July and other large cities including prefectural capitals by March 2012.