Now you can manage Outlook email on Android Wear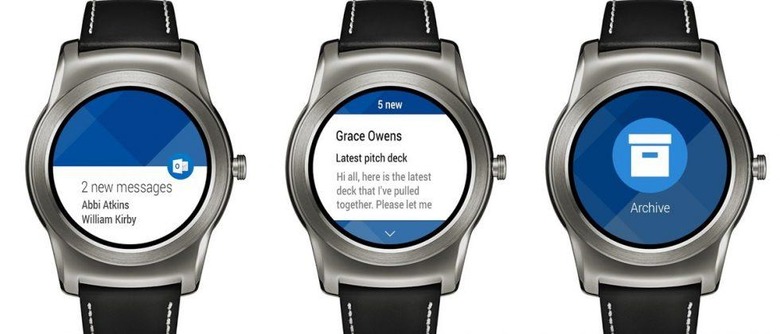 Your smartwatch may seem like the last device you'd want to read and manage your email on, but as the variety of email apps on the Apple Watch has shown, there are some people out there who do. It also proves that the wrist may not be such a bad location to take care of email from after all. With that, now Android Wear device owners can get in on the action, as Microsoft has finally released an Outlook app for Google's wearable-based OS.
The Outlook app will notify users of incoming mail, in addition to letting them scroll and read through messages. Users can tap to send pre-set replies, or write out a custom response via voice dictation.
It's nice that Microsoft has finally released an Outlook app for Android Wear, seeing as how an Apple Watch version was released way back in August of last year. Even though there aren't very many choices for email apps on Android Wear, Outlook is one of the best third-party options, so it's a big win for users.
Microsoft says the app update is rolling out to Google Play gradually, so it might be available for everyone right away.
SOURCE Google Play Store