NoteSlate Features ePaper Display, Coming Soon for $99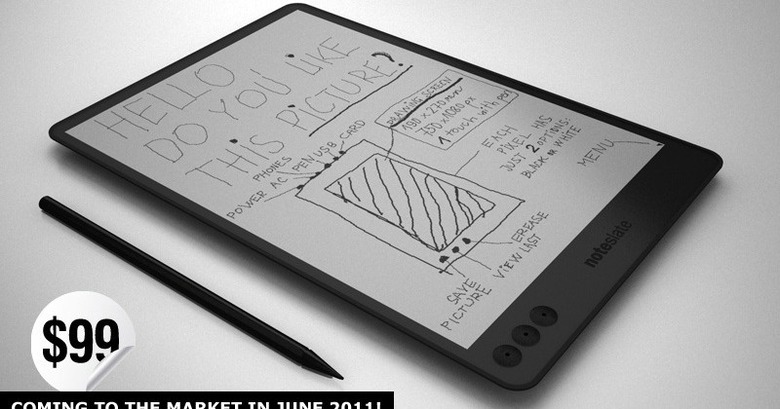 As far as tablets go, there's one for everyone's taste. In the case of the NoteSlate, it's for anyone who wants to have a tablet that features an advanced ePaper capacitive touchscreen display, of which you'll be able to write in four different colors. There's a catch with the colors, though: you'll only be able to write in one at a time, based on the model that you decide to drop your hard earned money on.
The NoteSlate is a concept tablet right now, but the manufacturers hope to have it available for purchase soon. The tablet features a new ePaper screen technology, which allows for the display to have one color shown at one time: red, blue, green and black models are the ones being planned for now. However, the company does have plans of creating a tablet that can do all four colors. The tablet features a 13-inch capacitive touchscreen display, with a resolution of 750 x 1080.
It's designed for those who want to draw, take notes, and save what they want — or delete what they don't — in an easy fashion. Unfortunately, considering it's just a concept right now, with talk about the tablet heading to manufacturing in just a short while, we're not so positive this will see the light of day. But, they company is already looking ahead to a future software update, which will provide PDF support. They also suggest that the battery life will last weeks, and weigh in at only 240g.
[via The Digital Reader]