North Korean company unveils Android-based Samjiyon tablet sans wifi

Earlier this year, North Korea had promised to switch on a 3G mobile broadband network for foreigners to access the Internet while within the Internet-deprived nation. While it did follow through on March 1, it wasn't even a month before the network was taken down for reasons unknown. Now the nation has entered into its newest technology foray, with a Pyongyang company unveiling an Android tablet called Samjiyon that doesn't have wifi.
Word of the tablet first surfaced last fall, with The Wall Street Journal offering up an image of the Samjiyon as well as precious few details. It has been a few months shy of a year, and the nation is currently undergoing one of its annual Pyongyang Autumn International Trade Fair, of which this is the eight iteration. It was at this fair that the tablet was officially unveiled.
Unfortunately, we still know almost nothing about it – there are no specifications provided yet – except for two things: that it runs Android, and that it does not have wireless Internet access, which doesn't really matter because there is no Internet access to which citizens could connect. Judging by the picture, we're guessing the Samjiyon has a 10-inch display, but that's not official.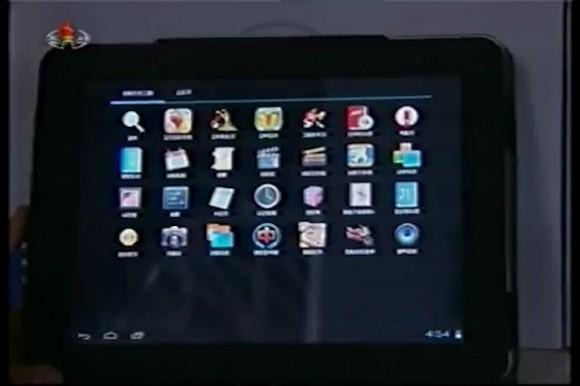 The folks at North Korea Tech grabbed some 90s era-resolution screenshots of the tablet, which was shown off on a North Korean TV station. Because the resolution is so poor, it is impossible to tell anything about the slate visually, including whether it runs Google applications, which would mean it used Android illegally.
The tablet didn't escape Google's attention, which commented to the WSJ back in September when it made its first appearance that the software may be used legally. There's no word on whether the tablet is available for citizens to buy now, although that appears to be the case. No information was provided on how much it costs, either.
SOURCE: North Korea Tech
Image via WSJ