Nook Touch has a hidden web browser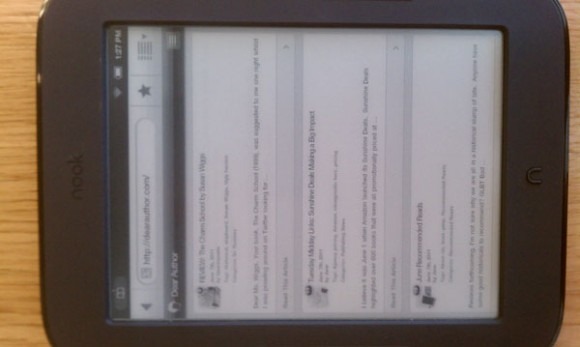 There are many reasons that makers of the gadgets we all know and love start building cool features, then hide them away deep inside the heart of the gadgets, and never talk about them again. Often the reason for this is that the feature sounds like a good idea and then the devs either can't make the feature work correctly or simply run out of time and can't finish the project. One of these hidden features has been found on the new Android-powered Nook Touch tablet.
The feature that was hidden away is a web browser. Since the browser was found, some users have been messing with the it and giving up some observations. The thing to note going in is that the users have said the browser is buggy. If the browser worked correctly, it wouldn't be hidden after all. However, one user says that the browser is faster and nicer than the K3 browser. In the upper right corner of the browser, you can see the drop down menu.
The user reports that when you download a PDF using the browser it shows up in the Recent downloads page of that menu. However, to kill the excitement at the thought of downloading eBooks using the browser, the user notes the PDF files can't be located on the device. It has to be putting them somewhere, perhaps other users will be able to tweak the browser and locate the files.
[via Android Community]