Nokia's 5800 XpressMusic passes the FCC 3G and all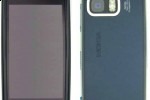 Just after getting our hands on the Nokia 5800 XpressMusic, the FCC has released information confirming that the touchscreen handset will be hitting the US complete with 3G. Now from what we can see there is no AT&T logo or branding from another carrier.
This leads us be believe that Nokia will bless us with an unlocked version that of course will be unsubsidized. We are certainly glad to hear that the 5800 XpressMusic will be making its debut here complete with 3G and all. The FCC reports also show a bunch of internal and external photos along with the instruction manual.
China's initial release did not even have 3G so Nokia really must like us here in the US. The only thing that could make this news better is a release date or special US only features. Check back here soon for our full review of the Nokia 5800 XpressMusic.