Nokia unveils new Asha 308 and Asha 309 budget smartphones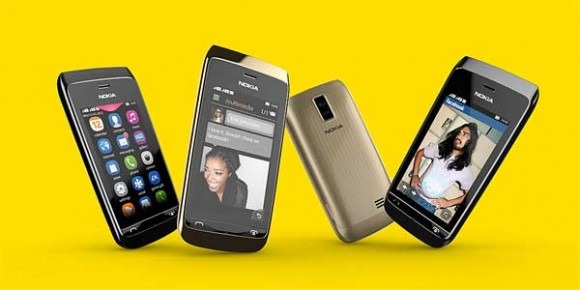 Asha Touch mobile phones from Nokia have been around for a while and are aimed at the low-end smartphone market. Nokia has announced the addition of two new budget smartphones in the Asha line called the Asha 308 and Asha 309. The difference between the two is that 308 is a dual SIM device, and the 309 has a single SIM.
Both devices are designed to provide fast web access at a low price. The smartphones use a new version of the Nokia Xpress Browser allowing devices to be up to 90% more efficient when accessing the mobile Internet. Both new smartphones have Nokia's fluid "swipe" user interface and an open environment allowing for third-party application development.
Nokia says that these two smartphones are the most affordable capacitive touchscreen devices yet. The retail price for each of the devices expected to be around $99 in the US with shipments starting in Q4 2012. Both smartphones are 2G devices and have three-inch WQVGA capacitive touchscreen displays. The smartphones also feature multiple home screens, stereo radios, loudspeakers, and up to 32 GB of storage via microSD cards.
The 309 uses a single SIM card and has integrated Wi-Fi. The 308 supports dual SIM cards and uses Nokia's Easy Swap technology allowing for quick and easy changing of SIM cards. Both phones will ship with 40 premium EA games, standalone Facebook and twitter clients, and Nokia Messaging Service. The smartphones will also be able to stream video through the browser from YouTube, which is a first for the Asha Touch range.