Nokia Transport updated for Windows Phone 7 and 8 and Symbian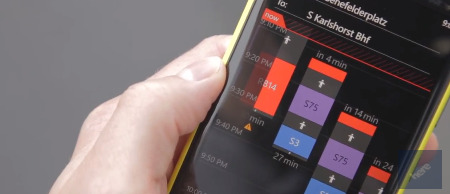 Nokia Transport just received an update, adding segmented route maps and more specific directions for those crucial moments when you need to know precisely what to do. This comes in addition to a redesign that updated the interface for a more intuitive, easy-to-take-in experience. The update is for Windows Phone 7 and 8, as well as Symbian.
Windows Phone 7 and 8 users get the most feature changes, gaining a segmented map that offers a more detailed image of a route. There's a plan-ahead feature, allowing users to view routes and select route plans by entering a future travel date and destination. Users can toggle distances between miles and kilometers, depending on preference, and can view departure times by seeing how much time is left or the exact time something is scheduled to leave. In addition, users can easily pull up route history, or delete history if you need to keep your journeys private.
Symbian users get a different kind of update, with an overall improved user experience and search function. In addition, there's the new ability to get over-the-air coverage updates, removing the need to download a fresh app whenever an area extension is pushed out. The new app is in beta, and is available via Nokia Beta Labs.
Nokia Transport presently covers over 550 cities and 53 countries, and, according to the company, "is constantly growing." You can find out if the mapping/navigation platform covers an area you're interested in by visiting Nokia's comprehensive coverage page on its website. The company is actively soliciting feedback on the updates, so if you have an opinion to voice, head over to the company's @heremaps Twitter feed.
[via Nokia]