Nokia PureLambda device pops up in WP Bench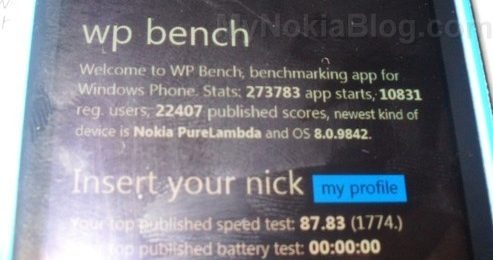 has been firmly committed to
since the company partnered with Microsoft last year, and has pushed out four Lumia devices since then. Its latest phone the Lumia 610, is due to be released in the UK at the beginning of June, but does the Finnish smartphone manufacturer have something else on the horizon? A new Nokia device spotted in WP Bench suggests that may be the case.
One user running the benchmarking tool on his Lumia 800 spotted a new Nokia device listed as the newest device tested and snapped a pic for
. The device is listed as the "Nokia PureLambda" with an OS version of 8.0.9842. On top of that, several other listings have been spotted for the Nokia Phi, Pure Phi, and Alpha.
The devices could simply be internal test names for phones that are already with us, although the OS 8 version listed for the PureLambda points to a new Windows Phone from Nokia running Apollo. Another possibility is that the PureView tech that Nokia has pioneered on the 808 PureView has made the jump to Windows Phone in a test device, even if it is a little earlier than expected.