Nokia has introduced a bike powered phone charger that lets you talk, listen to music, or just charge your phone while riding your bike. The charger has a cradle that securely straps your phone to the handlebar with a plug to charge your phone. The cradle is connected to the power converter that is attached to the front wheel of your bicycle.
The tiny turbine is pressed against the side of the front wheel and as the wheel spins it generates power that is sent to your phone. Nokia's charger is available in Europe, Asia, India, Africa, and Europe. There was no information on when or if the charger will make its way to North America. The charger starts charging when the rider reaches six kilometers per hour and Nokia says that it's just as effective as a standard wall charger if a rider gets to 12 kilometers per hour. Using the charger for 20 minutes at 10 kilometers per hour can power up a Nokia 1202 for one hour of talk time or 74 hours of standby time.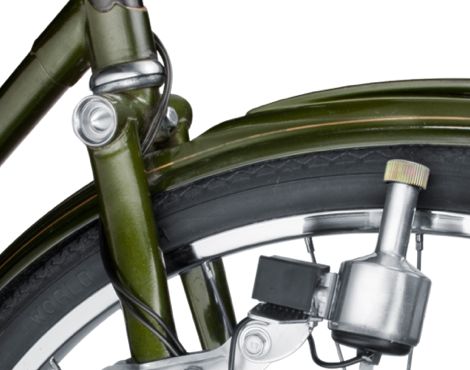 This isn't a novel idea as two students from the University of Kenya came up with a bicycle powered charger four years ago and filed patents under Kenyan law. The two unfortunately didn't have the money or backing to effectively promote their product. Motorola is also rumored to be developing their own bicycle powered charger. The Nokia bicycle phone charger costs around $33.
[via TreeHugger]