Nokia N96 NAM edition gets very large firmware update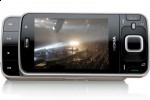 Nokia somehow has managed to quietly release a major update for the North American  (NAM) edition of the N96.  This update is not like your typical bug fix; this improves everything from overall stability of the handset to improved responsiveness to the camera's image quality.
The camera's still image quality has been improved with fixes for color haziness and motion blur under certain lighting conditions. Bluetooth has also been improved in a number of was including connection and compatibility. One of the biggest updates is the compatibility with Nokia's Mail on Ovi service, which allows users to sign up for an email account directly from their handsets.
One feature that I particularly like is having only one tone notification played per synchronization with exchange rather than one per new message. Some days you just get a lot of email and do not need to hear a tone for each and every one. If you have not already downloaded this update you can do so now via the Windows-based Nokia Software Updater.
Other changes include:
* Switch 4.0 – improved switch application to transfer user data from/to other devices

* Still image quality is improved, with fixes for color haziness and motion blur that appeared under certain conditions

* Improved overall Bluetooth interoperability

* Now compatible with Nokia (NYSE: NOK) Email service (available as separate download)

* If user sets brightness to maximum value, the display backlight now does turn back on after screensaver mode

* The device auto-lock no longer locks the device while viewing or recording videos

* SMS no longer gets auto-converted to an MMS message if there are more then 20 recipients

* Music Player "Refresh Library" no longer hangs if General Settings Date separator is set to ":"

* Now only one message alert tone is played per synchronization with Mail for Exchange, instead of one per message

* Fix for issue with alarm snoozing

* Theme no longer jumps back to default theme after using USB mass storage mode

* CSHelp texts are now updated to resolves several identified issues