Nokia Money enables payments from mobile phones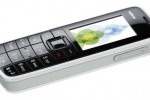 One of the things that users in Europe and other countries have access to on their mobile phones that those of us in America don't are mobile payments. I would love to be able to pay for things I want to buy by simply sending a text message.
Nokia has announced that Nokia Money will be available to consumers next year. The Money service is designed to allow users of Nokia handsets to send cash to other users by sending a text message. The service will also allow users to pay merchants, bills, and recharge pre paid phones.
Nokia reports that it is building a network of Nokia Money agents where users can deposit funds or withdraw cash from their accounts. Nokia says that mobile payments will be the next step for delivering financial services to millions of people, especially in emerging economies where many have phones but no bank account. Nokia Money will be shown for the first time in September at Nokia world and should hit market starting in early 2010.