Nokia Lumia 920 goes on sale in Canada tomorrow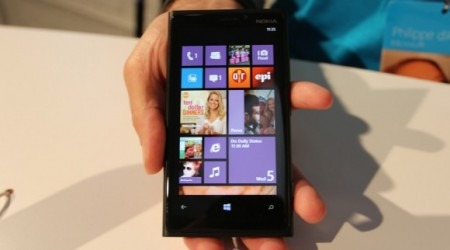 The Lumia 920 Windows Phone 8 from Nokia will be available in select Rogers stores in Canada tomorrow. Consumers will be able to nab the phone for $99.99 with a 3-year contract, or for $549.99 with a monthly contract-free plan. According to the announcement, wider availability will be available "in the coming days."
The Lumia 920 features 32GB of internal storage space, plus 7GB of SkyDrive cloud storage. Inside you'll find a 1.5GHz dual-core Snapdragon S4 processor. Ports include a micro USB 2.0 port, a micro USB data port, and a standard 3.5mm audio jack. The 2,000mAh battery gets approximately 320 hours of standby time and 9 hours of talk time.
Windows Phone 8 offers the same tiles you find in Windows 8, and provides users with access to about 120,000 apps, which is an impressive number that still falls far below its Android and iOS competition. Forty-six of the fifty major smartphone apps will be available to Windows Phone 8 users, however, including the likes of Facebook, Twitter, Pandora, and Angry Birds. Microsoft currently holds only 3% of the global smartphone market.
Although Microsoft falls short of Android and Apple in terms of both app availability and market share, a few big names have gotten behind the mobile OS, including HTC, Samsung, and Nokia. Assuming Microsoft can entice developers to beef up its app store offerings, the combination of high-end phones being released, the novelty of a sleek new mobile OS, and Microsoft's integration of Windows Phone 8 and Windows 8 just might give the company a much-need bump in the global market.
[via Mobile Syrup]