Nokia Lumia 625 arriving in the UK later this month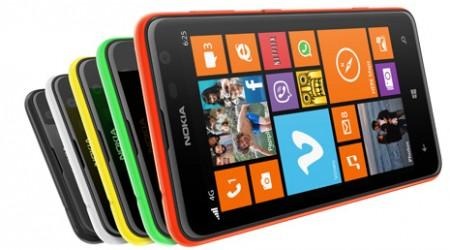 The Nokia Lumia 625 was announced late last month, with an expected arrival date of sometime in September. However, it looks like the Finnish company is moving that date up just a bit, and they have now announced that the budget phone will be coming to UK carriers starting on August 28.
The device will be available through EE, O2, Vodafone, Carphone Warehouse, and Phones4U. Plans start as low as £21 per month on-contract, which will score you the phone for free, or you can buy it off-contract for £179. EE, O2, and Vodafone LTE will be compatible with Lumia 625 shortly after launch, so you'll be able to surf on your mobile in style.
The display on the 625 measures in at an impressive 4.7 inches, but with a rather disappointing WVGA 800×480 resolution. It won't make the pixel-density snobs happy, but we're guessing those looking for a cheap phone will find the screen satisfactory. Under the hood, though, there's a Qualcomm Snapdragon S4 dual-core processor clocked at 1.2GHz with 512MB RAM and 8GB of internal storage — not entirely impressive, but it should keep the phone ticking along nicely.
The phone also comes with a 5-megapixel rear camera that can shoot 1080p video, and there's a front-facing VGA snapper for those inevitable duck-face selfies. Furthermore, if you're especially paranoid about the screen, the front display is covered in a layer of Corning's Gorilla Glass 2 to prevent scratches and such.
The big feature here, though, is the 4G LTE on board, which makes it one of the cheaper handsets out there that sports the faster data speed standard, making it the perfect option for those folks that aren't necessarily looking for the fastest phone in terms of processing power, but needing the fastest data speeds while out on the open road.