Nokia Lumia 2020 8-inch tablet rumored for release by April 2014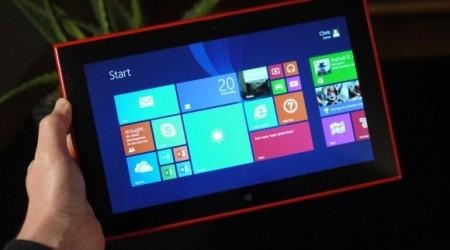 Hot on the heels of the release of Nokia's 10.1-inch tablet the Lumia 2520, rumors of an 8-inch Lumia tablet are already astir. The mid-sized device would be the same one that is currently known by the code name "Illusionist" and would be officially dubbed and sold as the Lumia 2020. According to Digitimes, the release date will likely be sometime in the first quarter of 2014.
If Digitimes' sources are correct, the 2020 would be a high-end product, eschewing the sub-$200 market that is currently emerging as the main battle ground in the ever-growing tablet wars. Digitimes offered little in the way of technical specifics. Most likely, the hardware and software would meet or exceed what we saw in the 2520 (pictured above.)
IntoMobile's Dusan Belic offers that the 2020 would run Windows 8.1 RT with a Qualcomm Snapdragon 800 quad-core chip and 2GB of RAM — safe assumptions all, considering that's what the 2520 has. Belic also suggested that Nokia would likely announce the 2020 at the Consumer Electronics Show in January or Mobile World Congress in February.
Digitimes, which is a Taiwan-based tech industry news organization, is well connected but "infamous" for its anonymous sources, as Unwired View puts it. Daniel Shen in Taipei and Steve Shen for Digitimes are the earliest origin for the 2020 rumor that we could find for this post. And if they're wrong? Hindsight.
SOURCE: Digitimes