Nokia Lumia 1520 to be AT&T exclusive in the US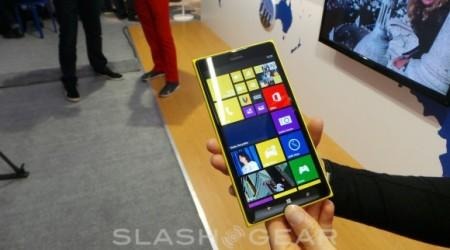 It's been a while since anyone's been particularly excited about anything coming out of Nokia. There are quite a few people to rather excited about the Nokia Lumia 1520 that's powered by Windows Phone 8.1. AT&T announced today that it would be the exclusive carrier for the Lumia 1520 smartphone when it launches in the US.
AT&T didn't come clean and offer the launch date for the Lumia 1520 when announced it would be the exclusive carrier. Rumors continue to suggest that the smartphone will launch in November. Price rumors are also suggesting that the smartphone will cost $699 off contract and will be available for $299 with a new two-year contract.
If you want to https://www.slashgear.com/nokia-lumia-1520-to-be-att-exclusive-in-the-us-22302426/">know more about the Lumia 1520 check out our hands-on with the smartphone. The 1520 has a six-inch screen supporting full HD resolution. It also features a 20-megapixel rear camera. The processor is a 2.2 GHz quad core QUALCOMM Snapdragon 800 paired with 2 GB of memory. Power comes from a 3400 mAh internal battery.
Along with the announcement that AT&T would be the exclusive carrier for the Lumia 1520, AT&T also announced that it would be adding the larger Nokia Lumia 2520 tablet to its portfolio as well. The 2520 has a 10.1-inch screen and runs Windows RT 8.1 for the operating system. It also features a 6.7-megapixel camera using Zeiss optics on the back and a two-megapixel camera on the front. AT&T doesn't mention pricing or availability for the 2520.
SOURCE: AT&T