Nokia Home Music WiFi Radio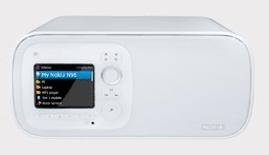 In among the N97, Nokia Maps and Nokia Messaging, the Finns also have a media streamer for us.  The Nokia Home Music is an all-in-one WiFi radio, with both internet and FM stations supported.  An integrated 10W speaker does general duty, but you can also hook it up to your stereo or standalone speakers for better quality.
Podcasts are also supported, and you can plug in your MP3 player to take advantage of the Home Music's speaker.  Otherwise very little is known about the device; we're presuming it can stream audio via the UPnP or DLNA standards, and likely slots somewhere into Nokia's Home Control Center system.
No word on price or availability, nor whether the Home Music has a battery for mobile use or is tethered via an AC cable.  It's probably too much to hope for the former.