Nokia 770 Internet Tablet for $129.99 - Only Today!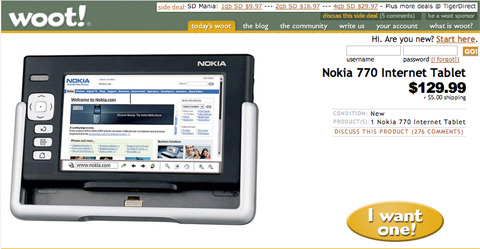 Do you ever wanted a Nokia N800 tablet but cant really afford it? Here is another alternative, the Nokia 770 Internet tablet. For only $129.99 today at woot.com, you can own one. The 770 are Linux-based Internet tablet featuring Wi-Fi and Bluetooth connectivity.
I personally use N800 at home for my emails when I'm not around the computer; it's a pretty nifty gizmo to have around the house.
The N770 sports a 64MB RAM, expandable to 1GB, 800X480 resolution, and it has around 3 hours of battery life.
Cheap Geek: Nokia 770 Tablet Only $129.99! [via gearlog]