Nokia 7 Plus details leaked in photos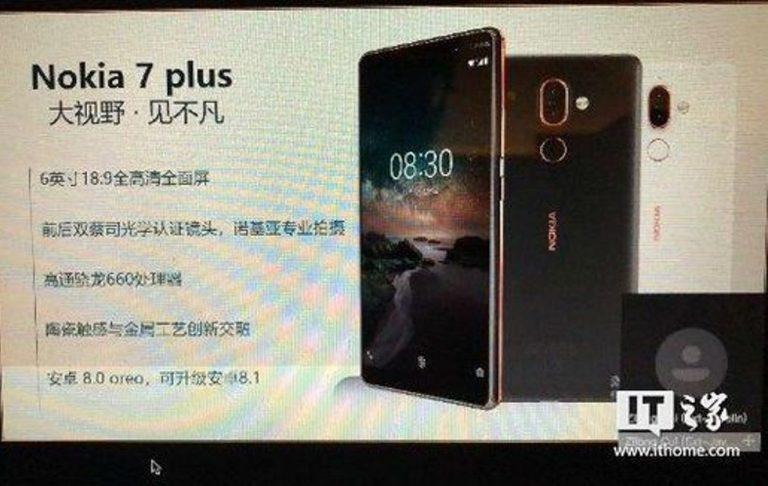 HMD Global's and Nokia's Android smartphone strategy is, to be frank, all over the place. There doesn't seem to be a discernible rhyme and reason to its models just yet. It just launched the Nokia 6 2018 edition but there isn't going to be a 2018 edition for the Nokia 7, at least not yet. Instead, there will be a Nokia 7 Plus, and it's looking to be quite a curious mid-range phone, at least based on these leaked marketing materials.
We've heard most of these details before. But it's one thing hearing them from leaksters and another seeing them in allegedly final PR slides. Of course, the veracity of these images are still a bit questionable, but they at least look more legit than a simple list.
As leaked before, the Nokia 7 Plus upgrades the processor from a Snapdragon 630 to a 660. The screen has also been enlarged, now 6 inches, with an 18:9 aspect ratio, most probably 2160x1080 FHD+. Sadly, the memory options haven't seen a change at 4 GB RAM and 64 GB storage. No word on a 6 GB RAM option yet.
Perhaps the biggest upgrades on the Nokia 7 Plus are its cameras. On the back, you get a dual camera setup with 12 and 13 megapixel sensors, capable of 2x zoom. The front camera gets a 16 megapixel "Tetracell" sensor. Both, naturally, use Zeiss lenses.
It isn't certain when HMD plans on bringing out this Nokia 7 Plus, which might be too soon considering the Nokia 7 only broke cover less than four months ago. Still, with MWC 2018 just a few weeks away, we could very well catch a glimpse of it before its launch.
VIA: