Nokia 5800 XpressMusic hits U.S. at Cincinnati Bell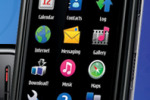 Fans of the Nokia XpressMusic phones rejoice! You can now get your hands on the 5800 XpressMusic in the U.S. on Cincinnati Bell Wireless. While you could buy the device in the country before, you could only do so at an unsubsidized price, shelling out about $400.
On Cincinnati Bell, the smartphone will cost $149 with a two-year contract and a $100 mail-in rebate. But besides the lower price, this device remains the same as it is in other countries and as it's unsubsidized counterpart.
Standard features include GPS, Wi-Fi, Bluetooth 2.0, a 3.2-inch 360 x 640 touchscreen, a web browser and more. We don't know if the Nokia 5800 XpressMusic will make it to other U.S. carriers, but for now, at least you have one option.
[via Softpedia]