Nokia 5.2 could have 48MP camera, look like a Huawei-Moto hybrid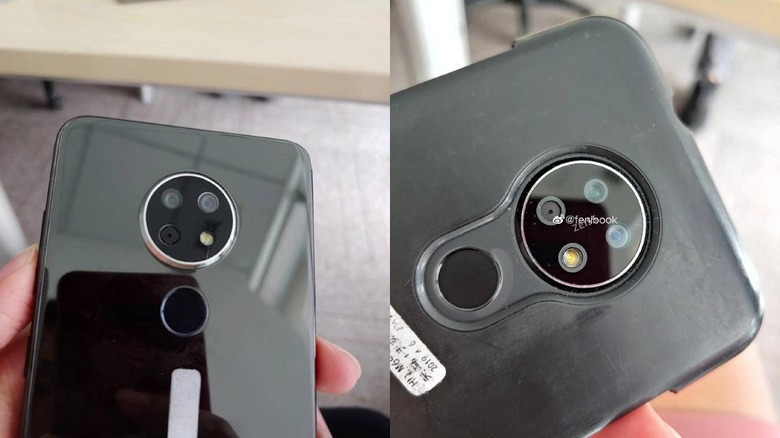 HMD Global has been making Nokia phones that are best known for their quick and regularly updated software as well as their affordable prices. They may not always be known, however, for their design or their cameras, the latter being one of the most popular features in smartphones these days. That may be fixed with an upcoming Nokia phone codenamed "daredevil" which will not only have a 48 megapixel camera but a memorable design that looks like the lovechild of a Huawei Mate 20 and a Moto Z phone.
For better or, more likely, for worse, Huawei was the first to employ a square camera bump, one that both Apple and Google are now rumored to be adopting for their next phones as well. But while the design first seen on the Huawei Mate 20 series had the cameras in the middle, Apple's and Google's versions show the block to the corner. Suffice it to say, it's not a popular design.
Motorola, on the other hand, is perhaps best known for its circular camera bump mimicking the "flat tire" design of the first Motorola smartwatch. According to leakster fenibook's pictures on Weibo, the Nokia "daredevil" will smash those two designs together into a circular camera bump with two cameras, an unidentified sensor, and a flash. The front is more conventional, opting for a waterdrop notch.
According to @Nokia_anew, that "daredevil" phone is going to be the Nokia 5.2. This will raise the Nokia 5 series' profile up to premium category, with features such as Carl Zeiss lens and OZO Audio. The Nokia 4 will take over the mid-range line, succeeding the Nokia 5.1.
HMD was planning to add Zeiss, PureDisplay and OZO Audio to Nokia 5.2. So far, everything fits. Therefore, last year's Nokia 5.1 was replaced by the new Nokia 4 – Nokia 5.2 moves to a more expensive segment.#nokia5 #nokiamobile #hmd #nokia #nokia4

— Nokia anew (@nokia_anew) July 5, 2019
One of those cameras on the Nokia 5.2 "Daredevil" is said to have a 48 megapixel sensor. The other camera is unrated but may have a wide-angle lens. Despite those specs, it may run on a mere Snapdragon 660 processor and have an FHD+ screen only. No word yet on when it will debut.