Nissan unveils 2014 GT-R Midnight Opal Special Edition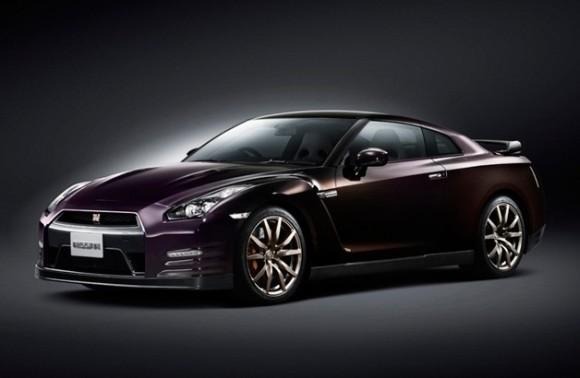 Nissan has introduced a special edition GT-R in Midnight Opal coloring, with it limiting the production of this particular model to only 100 units across the globe. The car will be a tad more expensive than the GT-R Premium, and is slated to arrive in the United States some time in September. Among other things, the vehicle is hand-painted.
The new paint job is one of the car's most alluring features, with the Midnight Opal coloring being applied by hand. The color and paint is designed in such a way that its color appears to change based on the lighting conditions around the car, as well as the angle from which the vehicle is being viewed. In addition to shifting between dark purple and blue, it is said to "sparkle" like a gem.
As a first time for a vehicle in the US, the GT-R Special Edition will also feature a hyper-titanium colored coating on its RAYS lightweight wheels, and will in addition offer a dry carbon fiber spoiler around back that is akin to what is found on the GT-R Black and GT-R Track Editions. To mark the vehicle as special, there will also be a serialized, gold-plated plaque within the engine compartment.
Inside, buyers will find a 3.8-liter VR38DETT twin turbo V6 engine with 545 horsepower and 463 lb-ft of torque. The engine is hand-assembled in what Nissan says is a "special clean room." There's also a dynamic independent rear transaxle ATTESA E-TS all wheel drive system. The driver will be able to adjust the shock absorbers, transmission, and Vehicle Dynamic Control from within the car to Normal, Special, and R settings.
As far as the interior goes, Nissan says there's a "cockpit-style" instrument panel, as well as a multi-function display that includes both driving and mechanical info. For those who want to get theirs hands on one of these very limited-edition cars, the price tag sits at $105,590 USD in the US, an increase over the Premium model of $6000.