Nissan GT-R sets drift record at 189 mph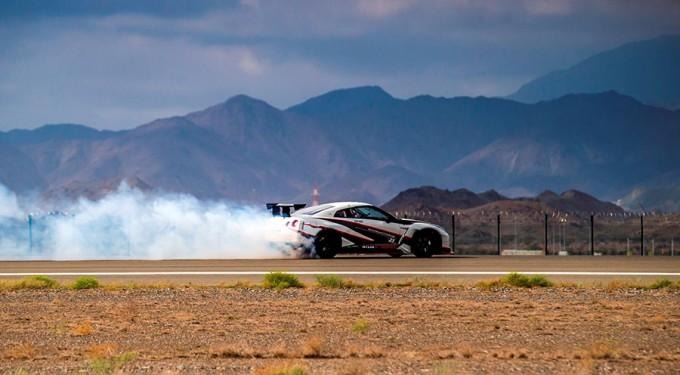 Nissan has announced that it has entered the Guinness World Records book with a very special GT-R for the fastest drift ever. Masato Kawabata, a Japanese drift champion for the Japanese drifting series, piloted the specially tuned Nissan GT-R. The record was set at the Fujairah International Airport, UAE. The 2016 GT-R used for the record setting run is far from stock.
The car was specially tuned with support and coordination from Nismo specialists and Greddy Trust. Kawabata extensively tested the car before the record setting performance at the Fuji Speedway in Japan. The tuned car makes 1380hp and was converted so that all the power was sent to the rear wheels. Standard Nissan GT-Rs are all-wheel drive cars.
To set the record the driver in the modified 2016 GT-R was able to break the wheels loose and get sideways at an angle of 30-degrees at a speed of 304.96 km/hr or 189.49 mph. Guidelines for the record setting attempt set by the Guinness World Records people stipulated that the Nissan team had only three tires to break the record.
"Once again, Nissan has broken a GUINNESS WORLD RECORDS title and has made international history for the fifth time in the Middle East," said Samir Cherfan, Managing Director of Nissan Middle East. "The Nissan GT-R is one of the world's most iconic supercars, proving time and again the incredible breadth of its capabilities, and has clearly demonstrated its performance leadership by beating the best drift cars out there. The fact that this achievement was set here in the UAE makes it even more special for our region. Setting this incredibly difficult world record was a clear demonstration of the excitement we are bringing to the Middle East with the Nismo brand."
SOURCE: Nissan